This Kaua'i Food Forest Provides More Than Just Food
On the north shore of Kaua'i is a unique forest designed to produce food and medicinal herbs.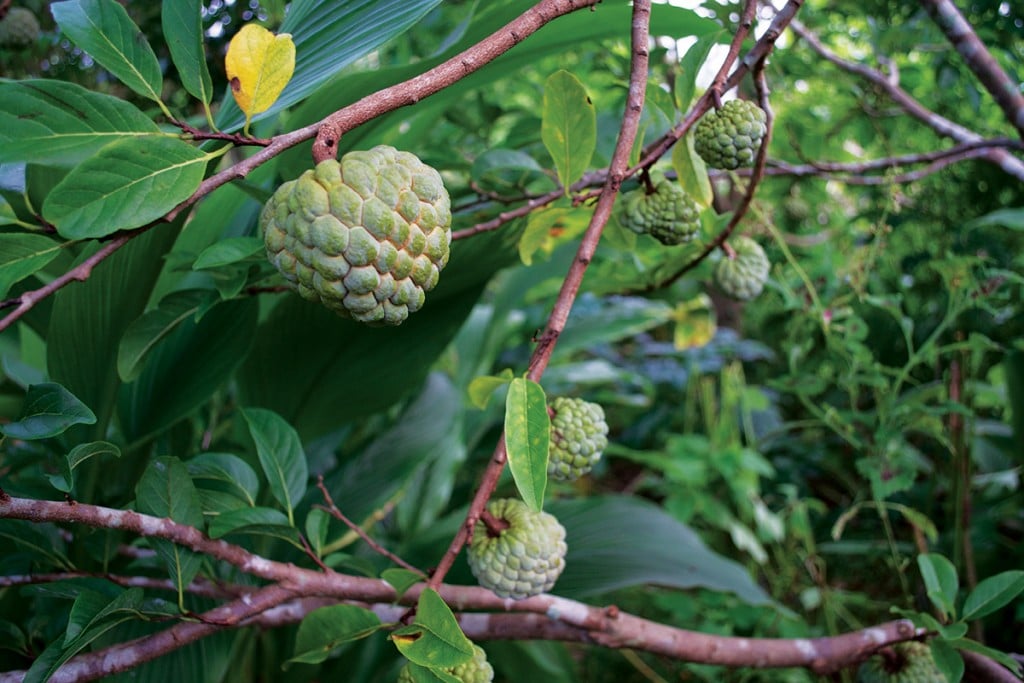 Paul Massey is alone in the middle of a forest. To the untrained eye, the sylvan backdrop could look like any of Kaua'i's many rich, verdant wooded areas. And yet this forest is unique.
This is the Kaua'i Food Forest, founded (and planted, cultivated and harvested) by humans and designed to be a producer of food, both recognizable and exotic: avocado, rambutan, breadfruit, katuk, roselle, rollinia.
This forest in Kīlauea is a collaboration between humans and nature, designed in accordance with a permaculture philosophy centered on creating synergy among all organisms. "It's about understanding all the forces of nature that are happening and present on the site," Massey says, "which are not static, but are changing through time."
Like so many relationships, this 2-acre forest in Kīlauea on the island's north end is complicated. One plant may be food-producing, but it's also doing a dozen other tasks to support the forest—feeding the soil, for
instance, or providing shaded protection that allows another young plant to flourish. Understanding the intricacies and delicacies of each plant's interlocking role is something that takes time—and trial and error—to achieve.
Massey has had almost a decade to study the forest. As one of the original driving forces behind the conceptualization and implementation of the Kaua'i Food Forest, he was there from the beginning, when a group of permaculture enthusiasts banded together with the vision of creating a space that would be the perfect environment for humans to flourish and for all of biodiversity to flourish with them.
Seven years after the first seeds were planted in the ground, the forest has blossomed into a success, producing a bounty of edible fruits, medicinal herbs and rare native Hawaiian specimens.
The forest holds short- and long-term crops, which include over 200 useful species, often collected from the community's network of plant collectors eager to share unique seeds or clippings with the forest.
Exchange, after all, is a huge element in food forest culture. That includes the sharing of information and skills, too: how to manage the land, how to grow your own food, how to use plants as medicine. And how, by extension, to improve your health, your relationship with the land and perhaps even your understanding of the culture of Hawai'i.
Community workdays run from 9 a.m. to 5 p.m. on Saturdays, 4535 Kāhiliholo Road, Kīlauea, Kaua'i, kauaifoodforest.org.