This rustic dining experience along the Coconut Coast has a menu for everyone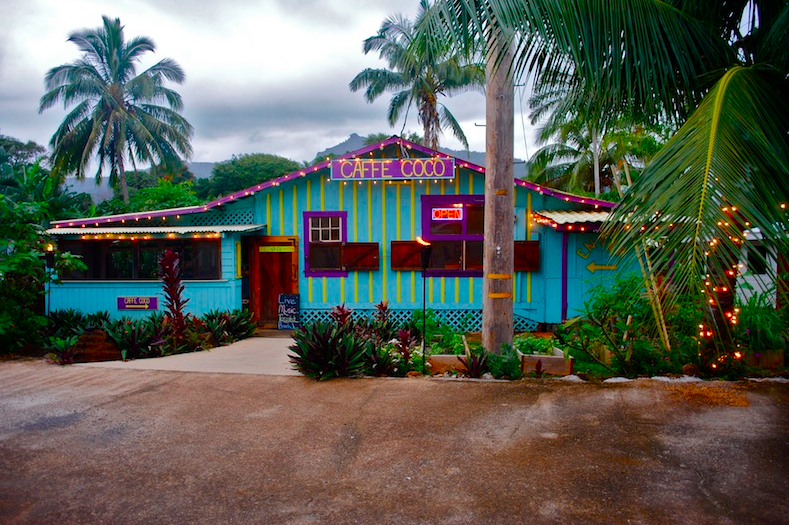 On Kauai's Coconut Coast, you'll find a tin-roofed shanty painted in bold hues of yellow, purple and blue. Inside, the aroma of jerk chicken plated with sweet potato puree, coconut creamed kale and pineapple salsa swirls through the kitchen. Out back in the garden, on a floor of crushed sea glass, diners feast on healthy, delicious meals under the stars. If you're looking for locally sourced food in a jungle-like setting, this is it. Welcome to Caffe Coco.
Open for dinner daily from 5 to 9 p.m., Caffe Coco serves flavorful, health-conscious meals featuring Kauai-grown produce. The cafe specializes in vegetarian and vegan dishes, though fresh island fish and organic chicken are abundant on the menu. There are also gluten-free options.
For starters, choose from coconut pumpkin soup ($5 for a cup), potstickers with tofu and mango sauce ($9) or tomato bruschetta on local toast ($12). Light dinner options include the Greek salad with feta, herb oil and balsamic ($15) and the tofu sandwich with wasabi aioli and pineapple salsa ($15). Entrees include chermoula spiced ahi served with rice and samosa with banana chutney ($28) and coconut macadamia nut tofu served with local veggies, rice and coconut cream sauce ($24).
There are also smaller portion plates for kids, such as fish 'n' rice ($9) and grilled cheese ($7). Don't forget to save room for dessert! A scoop of sweet, homemade ice cream is a must.
Caffe Coco's evening ambiance gives the restaurant a unique, rustic charm. Palm trees bursting with coconuts shroud the open-air dining room. Edison light bulbs float overhead. Green and blue sea glass sparkles on the floor. Most nights, the yard is abuzz with the sounds of live music. When the sky is clear, the moon and stars steal the show.
The Hippie Cafe at Caffe Coco is the restaurant's newest enterprise—a one-stop shop for acai bowls ($10-$12), cold brew coffee ($4), cold coconuts ($5), fresh fruit smoothies ($9) and gluten-free baked goods, such as banana bread and chocolate chip cookies. Menu favorites include On A Beach In Hawaii—a smoothie with kale, cucumber, mango and coconut water—mint iced tea ($3) and Tahitian lemonade ($3). Open from 7 a.m. to 1:30 p.m., this café within a café also sells to-go salads, a perfect option for those wanting to enjoy a healthy lunch on the beach or at the top of the nearby Sleeping Giant, also known as Nounou Mountain.
---
The kitchen breaks when the Hippie Café shuts down at 1:30 p.m. until Caffe Coco opens at 5 p.m. for dinner service. caffecocokauai.com