This ukulele's innovative design allows for easy traveling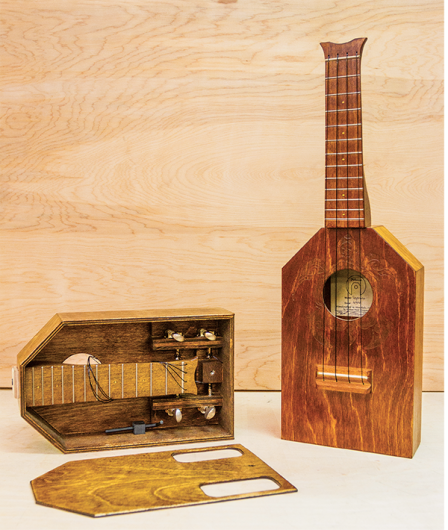 A new style of ukulele, the Pahulele, has made taking the sound of Hawaii abroad safer and more convenient. Thirty-four-year-old Reid Shigemura is a second-generation luthier—his father made violins for a living—and now, he is revolutionizing the ukulele. Shigemura reenvisioned the instrument, making a removable neck and building the body as a box that can house the neck, strings and tuners when the ukulele is on the road. He built it specifically for travel without compromising quality of sound, and calls his original design the Pahulele, or "jumping box." Its moniker is a play on the word ukulele, which literally means, "jumping flea," and is a Hawaiian adaptation of the Portuguese's machete de braca, a small, stringed instrument that was brought to Hawaii by immigrants in the 19th century.
"I wanted to create my own instrument," says Shigemura, "something different and unique; I was making ukulele and guitars for a while and I wanted to do something that was my own signature instrument."
Motivated by a fellow luthier who claimed that the ukulele and guitar could not be improved upon anymore, Shigemura quit his day job fixing string instruments at Harry's Music two years ago to pursue his passion full time and develop the Pahulele. The riskiest part 
of traveling with an ukulele is potentially damaging the long, fragile neck of the instrument in transit. So Shigemura's design focuses on safely protecting the lengthy appendage within the already hollow body, where the tuners are also stored. A hex key (aka an Allen wrench) 
is used to disassemble the Pahulele, as 
well as tune it upon arrival, making it possible for this Hawaiian lute to be packed in baggage.
"You can put it in your suitcase easily, which is normally something you don't want to do with an ukulele or other instrument," says Shigemura, who builds and produces all the Pahulele in Hawaii. "Most of the time when visitors buy an instrument here they worry about how they're going to get it home. The safest way is to put it in a box and ship it through the post office or UPS, which is pretty expensive. This way they can put it in their carry-on bag if they want or in their suitcase and it's perfectly safe."
The Pahulele are made at Hookani Music in Kalihi at the Oahu Makerspace. Shigemura also makes traditional ukulele and percussion boxes; repairs musical instruments pro bono for public schools; and teaches classes in ukulele building at the workshop. His primary mission, though, is to take the sound of the Islands to distant shores with the Pahulele.
"Hawaiian music is something that is unique and generalized to a very small location—the Hawaiian Islands—a very small community compared to the rest of the world, but it's something that is shared with the rest of the world," says Shigemura. With the Pahulele, he's hoping to help make that sharing process easier.
Shop online at hookani.com.