Three Reasons To Attend The 2nd Annual Paddle For A Cure On Maui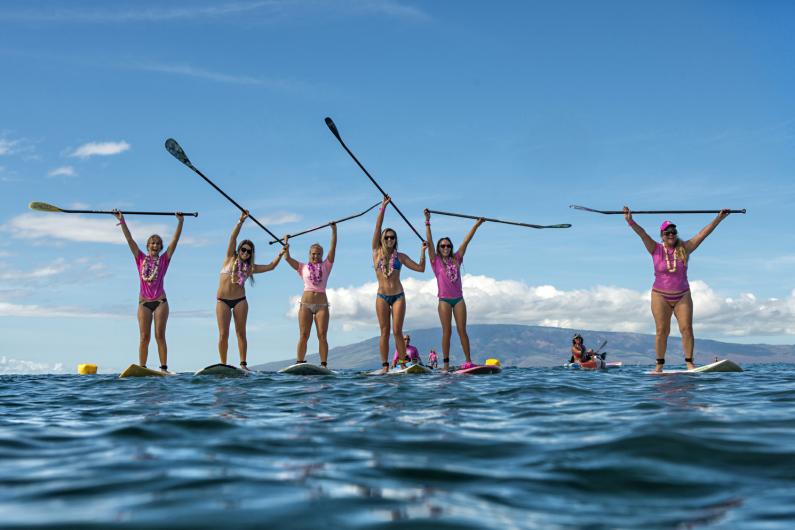 For the second consecutive year, the Hyatt Regency Maui Resort and Spa is partnering with the Butterfly Effect for the Maui Paddle for a Cure on Saturday, Oct. 3 with experienced and beginner paddlers welcome to participate in a non-competitive course along the beautiful shores of Kaanapali Beach. Last year, this event raised $10,000, and 100% of the proceeds this year will support Susan G. Komen Hawaii in their efforts for breast cancer education, awareness, prevention and treatment programs for women and men in the Hawaiian Islands. The 2nd annual Maui Paddle for a Cure's goal is to raise $15,000 in 2015. Your paddle registration fee is your donation to Susan G. Komen Hawaii, and includes admission to the after party at Hyatt Regency Maui Resort and Spa.
"Breast cancer continues to be one of the most common cancers diagnosed in women so it's important to bring awareness to it and support research and education, which is why we partnered with the Susan G. Komen Foundation," says Tegan Kopilenko, spokesperson for Hyatt Regency Maui Resort and Spa. "(Susan G. Komen Foundation's) Hawaii affiliates keeps the money in Hawaii that we raise so that we can focus on providing education that is very culturally sensitive so it speaks directly to the residents of Hawaii. We also raise money for screening services to the people that don't have access to high quality medical care."
This event kicks off at Hanakaoo Beach (Canoe Beach) in Kaanapali, with an SUP yoga lesson at 8:30 a.m. followed by registration. Paddlers on Stand-Up Paddle (SUP) boards, kayaks and outrigger canoes will don pink rash guards and head north in the crystal clear waters towards the iconic Black Rock. Upon return to Hyatt, the party starts at Sunset Terrace with gourmet food and beverage, a vendor expo and an exclusive performance by Anuhea.
Here are three reasons why you need to support and attend the second annual Maui Paddle for a Cure on Oct. 3:
Reason #1: Public Viewing
The 2nd annual Maui Paddle for a Cure is an excellent spectator sports event to watch because of its easy access. "It's a great event for the public to watch because it's right there on Canoe Beach, on Kaanapali, so it's easy access: there's parking, there's a pathway that goes straight down there if you're staying on Kaanapali and there is a big, wide beach," says Tegan Kopilenko, spokesperson for Hyatt Regency Maui Resort and Spa. "It's really fun to watch because you can watch this huge group of paddlers go up the beach and back down." Plus, the island of Lanai makes a stellar backdrop for pictures during the event.
Reason #2: Singer/Songwriter Anuhea Performs at After Party
In 2010, Anuhea won "Most Promising Artist" and "Contemporary Album of the Year" and since then has had a string of hits. Most recently, her rendition of Chaka Khan's "Sweet Thing" is receiving heavy air play on radio stations across Hawaii. The Kamehameha Schools graduate is currently working on an EP as well as a Christmas album, which are both set to release in 2015. For the second consecutive year Anuhea will be headlining the Maui Paddle for a Cure after party. "We're going to have Anuhea there, who is an amazing artist, who was born and raised on Maui," says Kopilenko. "She has performed all over the world, and she just has this beautiful voice that everyone who knows her loves and then everyone who hears her for the first time becomes a huge fan. She is able to sing folk-style music that anyone would love, but has a great Maui feel to it." Tickets to the after party are included with registration fees, and are also available for purchase seperately.
Reason #3: Beginners Welcomed!
If you've ever wonderded what is was like to SUP on Maui then the 2nd annual Maui Paddle for a Cure is the perfect event to try this exhilirating ocean activity for the first time. You'll be able to paddle up and down Kaanapali under the watch of numerous ocean safety officials as well as learn how to SUP from a professional. "This is a great event for people who are first-time paddle boarders as well," explains Kopilenko. "If you haven't ever done stand-up paddle before, we're going to have a clinic for the first time taught by Tatiana Howard, who is the founder of the Butterfly Effect. She'll be teaching the clinic on Friday evening, the night before the paddle board event and then on the day of the paddle you don't have to do the whole 2-mile course. If you're a beginner or you're just not comfortable there is a beginner's course that you can do. So if you're living on Maui and you've never tried it and want to come out then this is a great event. If you're visiting Maui and thought about trying stand-up paddle board then this is also great opportunity to do it."