Tie the Knot with a Little Aloha
Just like your bond, these Hawaiian wedding and engagement rings by Paradise Collection are unique, timeless and built to last.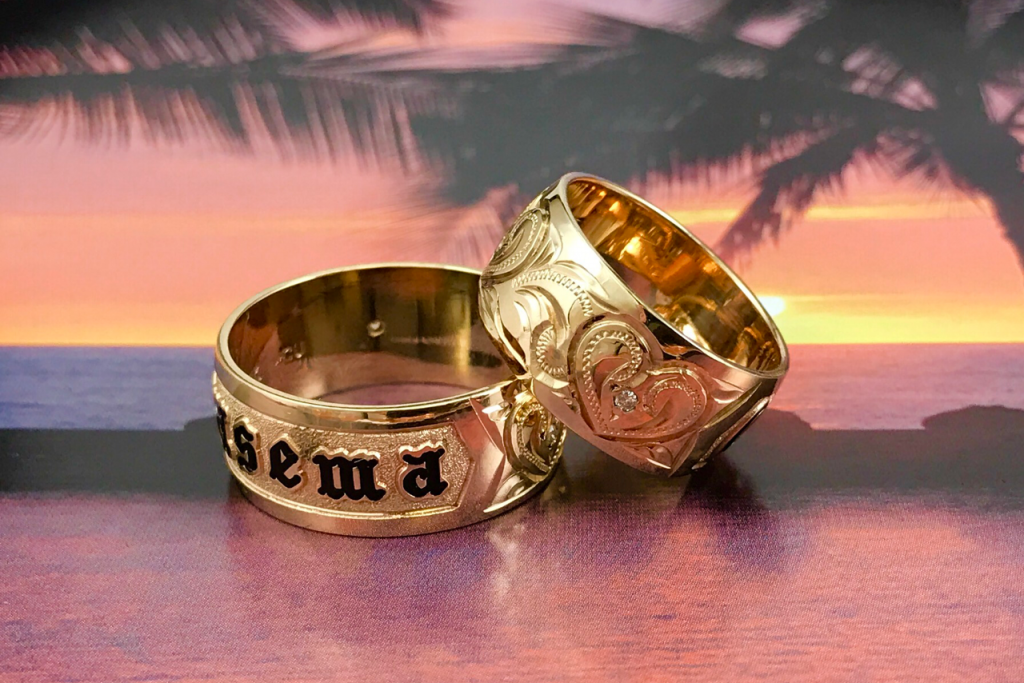 The tradition of Hawaiian heirloom jewelry dates back to the Victorian era, and continues today as a special and deeply meaningful gift reserved for celebrating a loved one's biggest milestones. Intricately designed with ornate engravings and Hawai'i-inspired motifs that reflect the beauty of the Islands, these works of art are as distinctive as they are treasured.
Island jeweler Paradise Collection has been sharing the tradition with the world for more than 20 years, crafting customized Hawaiian heirloom jewelry for locals, visitors and anyone looking for a wearable way to keep Hawai'i close to their hearts. Whether you're looking for the right engagement ring or unique matching wedding bands, Paradise Collection can create the perfect made-in-Hawai'i pieces to celebrate your love in a meaningful way. Each ring is made of 14-karat solid yellow gold, comes with a lifetime warranty and free shipping, and takes about one week to get to you.
Delicately hand-carved by its team of skilled jewelers, these statement-making Hawaiian engagement rings by Paradise Collection feature scroll, maile or plumeria motifs and can be customized in widths of 6, 8 and 10 millimeters to fit your preferences. Each ring features a single, stunning AAA-quality cubic zirconia center stone.
At 3 millimeters wide, with plumeria and scroll engravings all around and a 1/10-carat center diamond, this dainty engagement ring is classic and elegant. Shoppers can purchase it as a single ring, or pair it with one or two bands as part of a matching set. Each ring comes with a free inscription on the inside of the band.
Paradise Collection offers a range of wedding rings that can be customized to suit your preference, from cigar-style bands with intricate scroll designs to a choose-your-own design—take your pick of 12 designs, which include Island-inspired motifs such as dolphins, hibiscus and pineapple—featuring distinctive cut-out edges. Or, create a truly one-of-a-kind statement piece: This Hawaiian ring shines with a heart design, studded with a single diamond in the heart's center, and a personalized engraving with your choice of either a raised lettering style or, the traditional choice for Hawaiian heirloom jewelry, black enamel.
Shop Paradise Collection's range of engagement rings, wedding bands and much more at paradisecollection.com.