Tips on How To Get To Lanikai Beach on Oʻahu
All without getting a parking ticket or annoying the residents.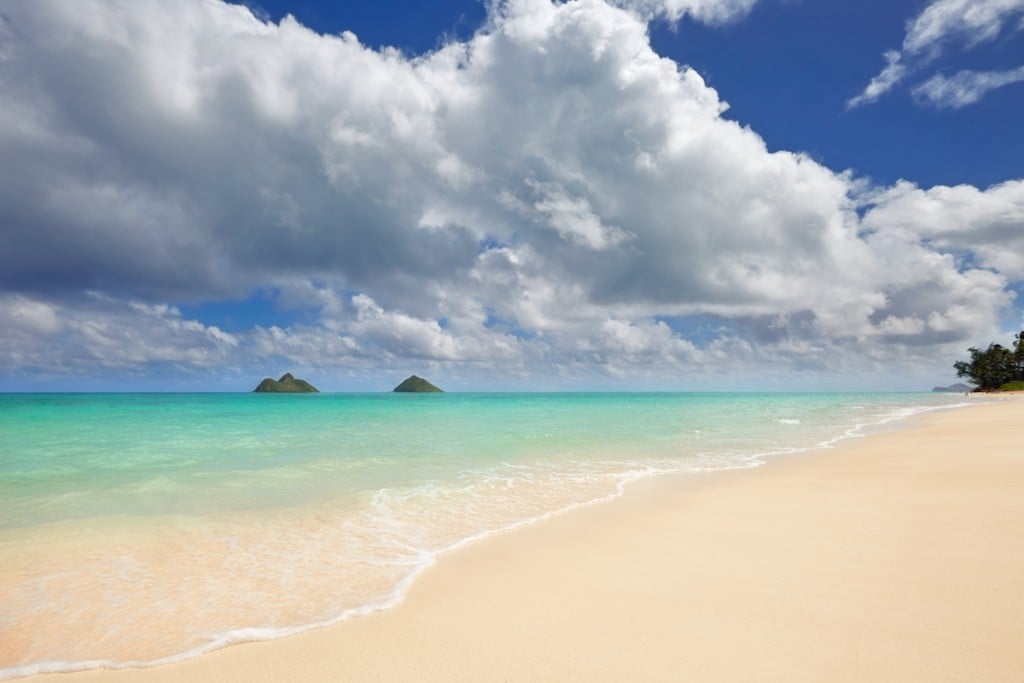 Maybe you've tried to visit the famed Lanikai Beach on Oʻahu on a three-day weekend only to be met with no parking signs along Mokulua and ʻAʻalapapa drives in the residential neighborhood.
Or maybe you've spent hours circling the Windward Oʻahu neighborhood, driving up and down the narrow side streets looking for parking near one of the 11 beach right-of-ways in the area.
Yes, parking in Lanikai to access the beach—or the popular Kaʻiwa Ridge Trail (aka the Lanikai Pillbox Trail), which is nearby—is difficult and complicated.
"There's only one way into Lanikai and one way out, and it's a narrow two-lane road with no other relief once you get in there," says Jon Nouchi, deputy director of the city's Department of Transportation Services. "And even if that's just people coming from the beach, when you add the pillbox hike, there's just no relief."
Lanikai is a residential neighborhood that sits along the shoreline. The main road is a one-way traffic loop with unpaved sidewalks, bike lanes and narrow side streets. The beach has no amenities—no restrooms, showers or parking.
In 2016 the city launched a program to restrict parking in Lanikai on long, holiday weekends, when the neighborhood would be inundated with cars and people. It can sometimes take up to two hours to get in and out of Lanikai—a frustration for residents and a safety concern for the city.
Some residents have placed large rocks and traffic cones—even planted trees—on the side of the road to deter beachgoers from parking near their driveways.
So how do you get to one of the island's most beautiful and picturesque beaches, especially if you can't park in Lanikai?
Here are our tips, with help from the city:
Park at Kailua Beach and Walk
Park at the lot at Kailua Beach along Kawailoa Road and walk along the shoreline toward Lanikai. It's only about a 5-minute stroll, and you'll get a stunning view of Kailua Beach and an up-close look at the historic Lanikai Monument. Kailua Beach has restrooms and showers, too. This is also where you should park if you're planning to hike to the top of Kaʻiwa Ridge; it's a mile from the parking lot to the trailhead near Mid-Pacific Country Club.
Catch the City Bus
Another option is parking in Kailua Town and catching the No. 671 bus to Lanikai. (Here's the timetable.) You can pay cash ($3 each way; no change given) or use a HOLO Card, which is a great option if you plan to ride the bus on your vacation. The city also has a real-time bus locator called HEA, which makes planning rides a lot easier. You can visit dozens of popular attractions and beaches via the bus, including Hanauma Bay, Ala Moana Center, Polynesian Cultural Center and the North Shore. (See more destinations here.)
Rent a Bike
While there's no bike ride-share program in Kailua—not yet, anyway!—there are a few shops that rent a variety of bikes. The Bike Shop, for example, rents road, mountain and cruiser bikes starting at $24 for 24 hours. Kailua and Lanikai are bike-friendly neighborhoods—and it'll be easier to find parking for a bike than a car.
As always, be respectful of the people who live and work in their areas. Don't leave trash, don't block driveways, don't be unruly. Be the kind of visitor you'd want in your own neighborhood.