Today is Girls' Day in Hawaii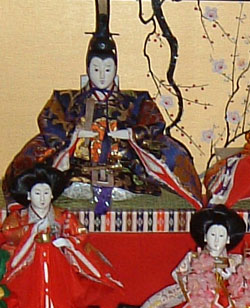 In Japan they've officially done away with Girls' Day, having turned Boys' Day, May 5, into Children's Day. But in Hawaii, we still know how to show a girl a good time.
In Hawaii, Hinamatsuri (Girls' Day) is celebrated on the third day of the third month, mostly by Japanese and Okinawan families. In case you're counting on your fingers, that's today, March 3.
In the old traditions, the celebration centered on doll collections begun for daughters at birth—figurines that symbolized proper feminine values like tidiness and docility. If this display was not taken down by March 3, according to custom, the girls would never marry.
The traditional food of the holiday is hishi mochi, a diamond-shaped rice cake in white (for snow and purity), red (for spring and spring flowers) and green (for summer and fertility).
Like many local traditions once exclusive to a particular ethnicity, Girls' Day has a universal appeal. Girls of all ancestries can be expected to pester their parents for presents.
A traditional gift would be a doll or paper peach blossoms, which promise tranquility and a peaceful marriage. But to the emancipated schoolgirls of the 21st century, an iPod might be more welcome.
Adult women seem to enjoy the day as well. Girls' Day is when you're apt to find mochi cookies by the coffee machine in the office.
Ann Hayashi, formerly with the Japanese Cultural Center of Hawaii, explains that the traditional practice of Girls' Day came to Hawaii with the first immigrants from Japan. As for the holiday's survival here, Hayashi says: "I think Hawaii is more traditional than Japan in some respects."