Top 10 Hawaiian Jewelry Designs
From floral plumeria earrings to two-toned silver pendants, here are the 10 most popular Hawaiian jewelry designs, presented by Paradise Collection.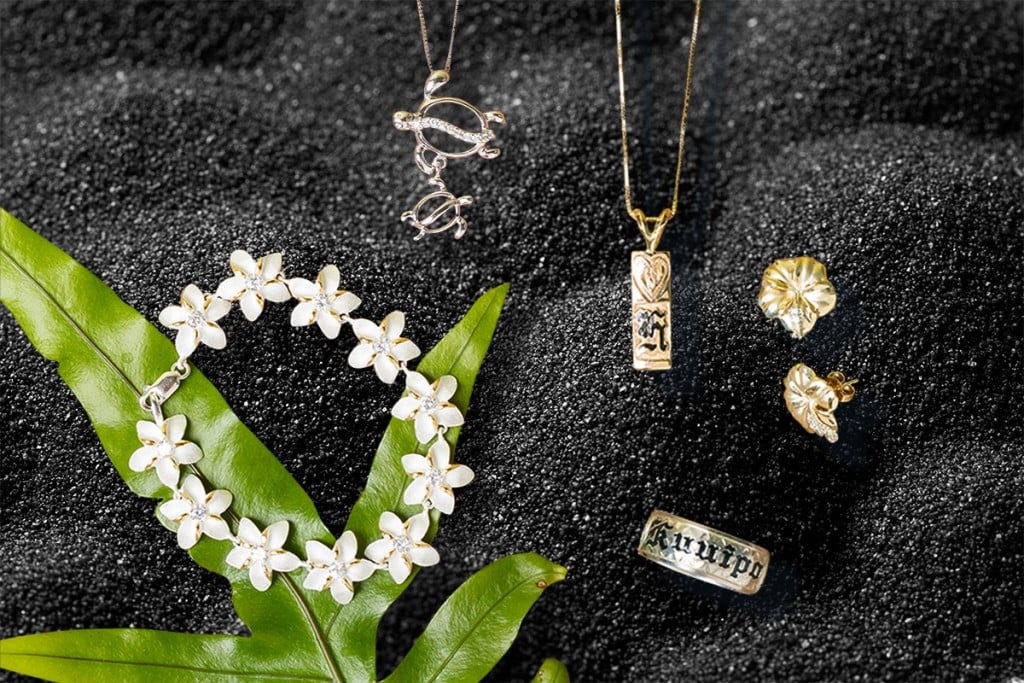 When purchasing a piece of jewelry made and designed in Hawaiʻi, one of the most important factors is the design. And throughout the years, specific styles and motifs have risen above the rest, from iconic island flowers like plumeria and hibiscus to the beloved honu (Hawaiian green sea turtle). So if you're looking for that perfect piece, either for yourself or a gift, consider these popular Hawaiian jewelry designs, presented by our friends at Paradise Collection. 
One of the Islands' most iconic flowers, plumeria, or melia in ʻōlelo Hawaiʻi (Hawaiian language), are often worn tucked behind the ear. But its timeless design also makes for a perfect paradise-inspired pendant or earring. 
Another all-too-Hawaiʻi motif, the hibiscus flower is synonymous with tropical paradises around the world—and especially in our Islands. The hibiscus, which is also the state flower of Hawaiʻi, features a gorgeous floral design that translates perfectly to a piece of jewelry. 
One of Hawaiʻi's top crops, the pineapple is a fruity favorite among visitors and locals. This tropical fruit also makes for an iconic Hawaiʻi design, thanks to its already golden color and sunny disposition.
4. Sea Turtle 
If there is any animal that truly encapsulates what it's like living in Hawaiʻi, the laid–back honu (Hawaiian green sea turtle) is a top contender. A symbol of good luck and longevity, the honu has deep roots in Hawaiian culture and its teardrop-shaped carapace makes it a perfect example of Island-inspired jewelry. 
Coming in a variety of Hawaiʻi-specific styles—think plumerias, honu, whale tails, dolphins and palm trees—Paradise Collection's fine collection of tricolored gold jewelry is available as pendants, earrings, necklaces, bracelets, anklets and rings. So if you truly love one of the designs listed above, why wouldn't you want to get it in three, equally stunning gold designs, all on one accessory? 
6. Two

–

Toned Silver 
Just like the tricolored gold jewelry designs offered by Paradise Collection, two–toned silver jewelry takes those already iconic Hawaiʻi styles and adds a splash of panache by interlacing sterling silver with a yellow gold finish. The two–toned design creates luxurious flourishes—a silver turtle bracelet finished with golden shells, silver plumeria earring with gold inlays, silver rings with gold Hawaiian quilt designs—to already intimately handcrafted pieces.
Kāne, or men in ʻolelo Hawaiʻi, love jewelry, too. And at Paradise Collection, there are more than enough Hawaiian designs to choose from, such as solid koa wood watches, sterling silver fishhooks and golden cross pendants. 
Whether you're looking for an engagement ring or a wedding band, those with subtle, intricate Hawaiian designs will always be in fashion. Paradise Collection offers a wide range of gold rings for that special occasion, many of which feature stunning diamonds and hand–carved Hawaiian designs. 
In Hawaiʻi, there's no gift more special than a piece of gold heirloom jewelry, personalized keepsakes adorned with the name of the recipient, plumeria, Island ferns and maile leaves. These pieces are often passed down from generation to generation.
10. Silver Heirloom 
If you're still looking to buy a piece of high quality, handmade Hawaiian heirloom jewelry but can't afford the price of gold, Paradise Collection also offers its entire heirloom jewelry line in more-affordable silver.. Just like its gold pieces, the silver heirloom jewelry can be personalized with names, phrases and your choice of Hawaiian designs. 
Shop for any of these top Hawaiian jewelry designs and more at Paradise Collection's website, paradisecollection.com.