Top 5 favorite Big Island scenic hiking trails
Lush waterfalls, green sand and lava tubes - Big Island has it all.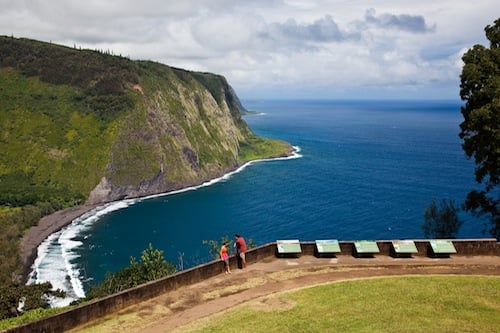 What's your favorite scenic hiking trail (short or long) on the Big Island? Here's the top five countdown of our facebook ohana's favorite scenic hiking trails on the Big Island.
No. 5

WAIPIO VALLEY
Situated on the northern Hamakua Coast, is lush Waipio Valley, known as "The Valley of the Kings." It was the boyhood home of King Kamehameha I, who established the Kingdom of Hawaii in 1810 and served as its first monarch. Surrounded by cliffs up to 2000-feet high, this deep valley is about one mile across. The Big Island's tallest waterfall, Hiilawe Falls, cascades down 1,300 feet in the back of the valley. The paved path into the valley is actually a steep access road (4-wheel drive vehicles only). Most hikers park at the Waipio Valley Lookout. From there, a black-sand beach about one mile down the road. Further down is Kuluhine Falls, and at the bottom of the valley there's a view of Hiilawe falls. The trail to the beach is public, but much of Waipio Valley is private property. If you plan to explore beyond the public access areas, seek out permission or sign up for a guided tour.
No. 4
PAPAKOLEA BEACH
(GREEN SAND BEACH)
The mineral olivine, found in a volcanic cinder cone at the Big Island's southernmost point, is responsible for the green sand at Papakolea Beach. It's one of only two green-sand beaches in the world. (The other is in the Galapagos Islands.) The beach is located near a 710-acre peninsula call Ka Lae ("the point," in Hawaiian). Known among locals as "South Point," the peninsula is the southernmost tip of the United States. (The first land due south is 7,000 miles away, in Antarctica.) The hike to the beach is about 2.5 miles (one way). Most hikers park in South Point, at South at the end of a single-lane road where the pavement ends and a rough trail begins. From here, the trek is limited to hikers and four-wheel drive vehicles. The intersecting ocean currents that make the area's offshore waters dangerous for nearly all ocean activities make it one of the state's best, if most remote, places for shoreline fishing.

No. 3
THURSTON LAVA TUBE
Hawaii Volcanoes National Park is crisscrossed with more than 150 miles of hiking trails, which range in difficulty from easy walks like Kipukapuaulu (Bird Park) to wilderness areas recommended only to hikers in top physical condition. The 20-minute walk through a thick fern forest to Thurston Lava Tube is among the easy-breezy hikes. It leads to a cave-like tunnel — a 500-foot-long lava tube that once carried fast-moving molten lava. Several hundred years ago, a large eruption near the summit of Kilauea volcano created the lava tube. (Lava now streaming from Puu Oo crater to the ocean winds through lava tubes much like this one.) Lorrin Thurston, a local newspaper publisher, reportedly discovered Thurston Lava Tube in 1913. The lava tube also has a Hawaiian name, Na Huku, which refers to the protuberances on the tube walls. A collapse in the tube's roof serves as an exit back into the forest.

No. 2
AKAKA FALLS LOOP
Akaka Fall State Park is located along the northeastern Hamakua Coast, at the end of Highway 220, also known as Akaka Falls Road. The park — about 3.5 miles away from Honomu, a former sugar plantation town — sprawls over 65 acres with two waterfalls. There's 100-foot Kahuna Falls and 442-foot Akaka Falls. The short hike to both is along a 0.4-mile paved footpath loop through a lush rainforest filled with wild orchids, bamboo groves and draping ferns. The trailhead is located just off the parking lot. Few Hawaii waterfalls of Akaka's height are so easily accessible. Consequently, it's very popular with visitors and residents alike. In a previous facebook poll, our reader ohana ranked Akaka Falls as their favorite Hawaii waterfall. Some readers noted that it's a must-stop on every Big Island visit. And even Big Island residents are known to return to its visual splendor again and again.
No. 1
KILAUEA IKI TRAIL
Our facebook ohana selected Kilauea Iki as their top pick for a Big Island hike (short or long). Kilauea volcano, in Hawaii Volcanoes National Park, is currently ranked among the most active volcanoes on the planet. The park has many trails, ranging from a quick walk through a lava tube to multi-day hikes. Among the most popular with park visitors: Kilauea Iki Trail — a 4-mile loop trail through Kilauea Iki crater, the remains of a massive 1959 eruption. The trail begins off the park's Crater Rim Drive near the Thurston Lava Tube. Its more than 400-foot descent takes hikers through a variety of scenery—lush fern-filled rainforests, with native birds in the trees, near active steam and sulfur vents and across a long-solidified lava lake. Follow rock cairns across the crater floor. Bring sunscreen as well as rain gear as daily weather can shift from warm and sunny to cool, wet and windy.