Top 5 favorite Hawaii hiking trails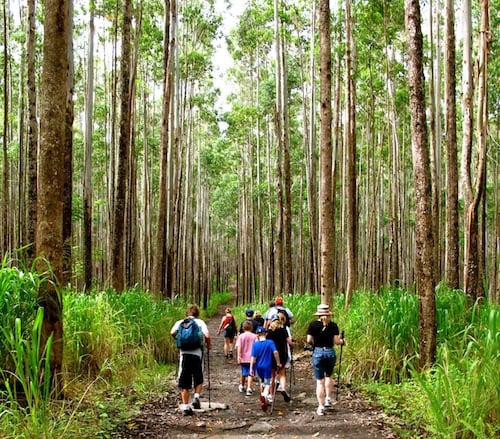 A trek through a crater once filled with molten lava. A hike to the summit of one of Hawaii's most iconic natural landmarks. A couple of lush forests hikes ending at mountain-stream-fed waterfalls. And a multi-day hike along an otherwise virtually unreachable Kauai coastline.
We've counted the hundreds of answers submitted by HAWAII Magazine's Facebook reader ohana when we asked them the poll question: "What's your favorite Hawaii hiking trail?"
Faves you sent our way that DIDN'T make the final cut included popular hikes such as the Kaena Point, Makapuu Lighthouse and Koko Head trails on Oahu; hikes into Waipio and Pololu valleys on the Big Island; a half-dozen trails traversing the summit of Haleakala volcano on Maui; and several terrific hikes in the cloud-level forests of Kauai's Kokee State Park.
If you'd like to join in on our next HAWAII Magazine Facebook Ohana Poll and vote along with our always-growing reader family, go to the HAWAII Magazine Facebook page and "like" us. In return you'll be able to share your answers in all of our future "Hawaii favorite" poll questions as soon as we post them, know the results of the poll when all of the votes are counted, and get all of our daily HawaiiMagazine.com photos and features.
We'll be posting our next Ohana Poll question on HAWAII Magazine's Facebook page in the weeks ahead, so "like" us now if you haven't yet.
Until then, here's the Top 5 countdown of our Facebook ohana's favorite Hawaii hiking trails.
#5: Kilauea Iki Trail
(Hawaii Volcanoes National Park, Big Island)
Kilauea, in Hawaii Volcanoes National Park, is currently ranked among the most active volcanoes on the planet. The park has many trails, ranging from a quick walk through a lava tube to multi-day hikes. Among the most popular: Kilauea Iki Trail — a 4-mile loop trail through Kilauea Iki crater, the remains of a massive 1959 eruption. The trail begins off the park's Crater Rim Drive near the Thurston Lava Tube. Its more than 400-foot descent takes hikers through a variety of scenery—lush fern- and foliage-filled rainforests, with native birds in the trees, near active steam and sulfur vents and across a long-solidified lava lake. Follow rock cairns across the crater floor. Bring sunscreen as well as rain gear as daily weather can shift from warm and sunny to cool, wet and windy.
Click here for more detailed trail info.
#4: Manoa Falls Trail
(Manoa Valley, Oahu)
Manoa Valley's verdant backdrop is the majestic peaks of the Koolau mountain range, often dressed with clouds that bathe the valley with frequent rains. Many trails meander through the valley's forests and along its ridges. One of the most popular is this gentle, nearly mile-long trail to Manoa Falls (pictured here). The trail passes through rain forests and bamboo groves to the base of the 150-foot waterfall deep in the valley. The rustle of the trees and cacophony of birdsongs will leave you questioning whether you're really only five miles from urban Honolulu.
Click here for more detailed trail info.
#3: Diamond Head Crater Summit Trail
(Honolulu, Oahu)
The hike to the summit of the Diamond Head State Monument attracts more than 1.3 million people annually and is one of the state's most popular. While hardcore hikers may wonder whether the 1.6-mile roundtrip trail is a bit too easy-going to qualify as a hiker's hike, we figure that the quick 560-foot incline, which includes two sets of steep stairs, serves as very efficient workout. If you cannot feel your heart pumping a bit by the time you reach the 225-foot unlit tunnel near the top of the trail, pick up the pace or consider making the roundtrip twice. The path winding inside the extinct crater—a remnant of a violent and, likely, short-lived eruption about 200,000 years ago—ends at the summit. On a clear day you can see Oahu's entire south shore—from Koko Head Crater and Waikiki to the Waianae Mountains.
Click here for more detailed trail info.
#2: Pipiwai Trail
(Kipahulu, Maui)
Pipiwai Trail, a 4-mile roundtrip hike, is known for delivering spectacular views on the way to its dazzling destination: Waimoku Falls—the horseshoe-shaped 400-foot waterfall is the largest on Maui. The trail isn't particularly easy to get to, but intrepid hikers will be richly rewarded with postcard-perfect scenery. Most hikers drive the winding Hana Highway to Haleakala National Park's oceanside Kipahulu Visitor Center, 10 miles south of Hana in Kipahulu. The Pipiwai Trail begins there with a two-mile trek up Oheo Gulch (aka Seven Sacred Pools). The trail crosses Pipiwai Stream several times and enters a total of three bamboo forests. Also on the trail: 185-foot Makahiku Falls. The trail's elevation gain is about 650 feet, and the hike takes between 2 ½ and 5 hours.
Click here for more detailed trail info.
#1: Kalalau Trail
(Napali Coast, Kauai)
The Kalalau Trail, along Kauai's Na Pali Coast is a strenuous 11-mile hike along the northern side of the island, from Kee Beach to Kalalau Valley and Beach. Your reward for taking on this tough trail? Panoramic views of the area's breathtaking coastline—complete with plunging sea cliffs, lush rainforests and valleys. Depending on how far you wish to follow the trail, you may have to plan an overnight trip. Whatever your plans, you'll begin your hike at the Kee Beach at the end of Highway 560, and follow the Kalalau trail for two miles to Hanakapiai Beach. Hanakapiai is a white sand beach, best visited in summertime as it tends to wash away in winter. The trek to Hanakapiai is a great day hike—one we've documented in detail in the feature "The Daytrippers: A Day Hike on Kauai's Napali Coast." To continue on to Kalalau Valley and Beach (pictured above), or to camp, you must obtain a state permit. If you've got the time and the stamina, trust us, all of the effort is more than worth it.
Click here for more detailed trail info.