Top 5 favorite Hawaii natural wonders: HAWAII Magazine facebook poll results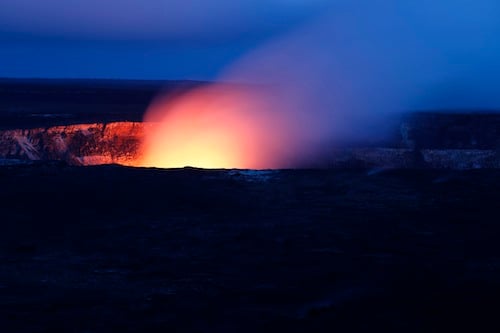 We've counted the votes from our latest HAWAII Magazine facebook ohana poll question: What's your favorite Hawaii natural wonder? The top vote-getters are on the pages ahead.
Not already a part of our facebook ohana? If that's the case, you're cordially invited to take part in on our next poll. Just click here then press the "like" button at the top of our facebook page. You'll then become part of our HAWAII Magazine facebook ohana and get our "Hawaii favorite" poll questions as soon as we post them. You'll also get instant updates on your facebook wall when we post our daily HawaiiMagazine.com stories and features.
We'll be posting our next ohana poll question on HAWAII Magazine's facebook page in the days ahead. OK, here we go. Here's the top five countdown of our facebook ohana's favorite Hawaii natural wonder.

HANAUMA BAY (OAHU)
Hanauma Bay, near the southeast tip of Oahu is both a nature preserve and a marine life conservation district. An estimated 400 species of fish reside in its typically gentle waters. It's also, of course, a very popular snorkeling destination. It's important for visitors to do their part in helping to preserve the bay's delicate ecosystem. At Hanauma Bay, and at snorkeling spots throughout the Islands, please do not touch the sea creatures and coral. Also, make sure that you don't leave litter on the shorelines. Aloha!
OHEO GULCH (MAUI)
The freshwater pools at Oheo Gulch, also known as "Pools of Oheo," (and misidentified in old guidebooks as "Seven Sacred Pools") are situated on the lower slopes of Maui's Haleakala volcano. Fed by waterfalls, the tiered pools (there are more than seven) are in an area of Haleakala National Park called Oheo Gulch, about 10 miles south of Hana. Typically, visitors begin the 2-mile trek to the pools at the park's oceanside Kipahulu Visitor Center. In addition to swimming in the pools, visitors may further explore the area's hiking trails. Pipiwai Trail, which leads to 400-foot Waimoku Falls, starts at the pools.

No. 4 (tie)
HALEAKALA (MAUI)
Haleakala, which translates as "house of the sun," is Maui's highest peak. From its summit — 10,023 feet above sea level — you can see up to three neighbor islands (when skies are clear) and spectacular sunrises and sunsets (from a visitor area situated above the usual cloud level). Haleakala National Park encompasses nearly 30,000 acres of public land across Maui's southern and eastern coast areas. The park's hiking trails traverse microclimates ranging from often-arid brown-and-red volcanic cinder cones to damp "cloudforests" filled with native ferns. The park also encompasses lush Kipahulu Valley.

DIAMOND HEAD (OAHU)
The extinct volcanic tuff cone known as Diamond Head is perhaps Hawaii's most recognized natural wonder. British sailors arriving on Oahu in the 19th century gave the 150,000-year old monument the English name that would stick after mistaking calcite crystals lodged in its slopes for diamonds. Diamond Head's Hawaiian name, Leahi is a variant of the words lae (brow) and ahi (tuna), describing its silhouette's resemblance to the dorsal fin of a tuna. Diamond Head State Monument maintains a trail to the summit from which you can see most of Oahu's south shore.

No. 3
WAIMEA CANYON (KAUAI)
Hawaii's "Grand Canyon of the Pacific" owes its beauty to natural events that occurred in one cataclysmic volcanic moment, then slowly over millions of years. Four million years ago, as steady volcanic activity from the Kauai's dominant peak Mount Waialeale was still growing the island, a huge section of land collapsed creating a massive depression. Fresh lava filled the depression until Kauai's eruptive life ended. In the aftermath, rainwater coursed down the Waimea River from Waialeale's peak—one of the wettest places on earth — and gradually turned exposed lava rock from black to bright and deep reds. (The word "waimea" is Hawaiian for reddish water, tinted by the iron-rich volcanic soil.) The breathtaking canyon measures 14 miles long.
No. 2
NAPALI COAST (KAUAI)
This secluded 17-mile stretch along Kauai's north shore offers wonderful views of boundless ocean, deep narrow valleys, and opulent green cliffs that reach more than 4,000 feet from ocean to summit. The Napali Coast is among the Hawaii wonders that are largely off-limits to automobiles. It's accessible by land only through the Kalalau Trail, a rigorous 11-mile hiking trail. At the end of the trail, hikers get to sink their toes into the white sand of Kalalau Beach. While non-hikers cannot get to the coast in an automobile, they can enjoy the breathtaking beauty of the Napali area by way of boat tours, guided kayaking trips, and air tours.

No. 1

VOLCANOES (BIG ISLAND)
When it comes to Hawaii's natural wonders, our facebook ohana is most in awe of Madame Pele and her fiery displays at the Big Island's Hawaii Volcanoes National Park. The latest display involves a lava lake swirling beneath a crack in the earth at Halemaumau crater — Kilauea volcano's summit caldera. During the last several weeks, the lake has been rising to its highest levels since the vent opened in 2008, according to the U.S. Geological Survey's Hawaiian Volcano Observatory. Last month, the park celebrated the 25th anniversary of its designation by the United Nations Educational, Scientific and Cultural Organization (UNESCO) as a World Heritage site.