Top 5 favorite Hawaii places to watch a sunset
Your top spots from Oahu and Kauai to the Big Island.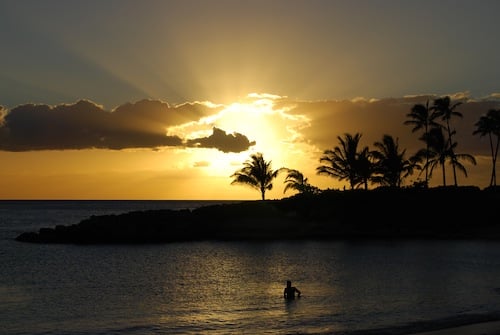 Hanalei Bay and Haena State Park on Kauai. Wailea and Makena Beach on Maui. Anaehoomalu Bay on the Big Island. Ko Olina Resort on Oahu.
These are the universally-agreed-upon sweet spots that DIDN'T make the final five cut of our readers' Favorite Hawaii Places to Watch a Sunset list for 2014.
Earlier this month, we again asked our HAWAII Magazine Facebook reader ohana the poll question: "What's your favorite Hawaii place to watch a sunset?" Hundreds of you voted. We tallied all the votes.
So if the very excellent sunset-catching spots above didn't make this year's Top 5 list, which ones did? And which sunset spots moved up or down from last year's list? Read on!
And if you'd like to join in on our next HAWAII Magazine Facebook Ohana Poll and vote along with our 75,000-reader-strong Facebook family, go to the HAWAII Magazine Facebook page and "like" us. In return you'll be able to share your answers in all of our future "Hawaii favorite" poll questions as soon as we post them, know the results of the poll when all of the votes are counted, and get all of our daily HawaiiMagazine.com photos and features.
Here's this year's Top 5 countdown of our Facebook ohana's favorite Hawaii places to watch a sunset.

#5: Poipu, Kauai
(Last year: #5, tied with North Shore Oahu)
The most popular beach on Kauai's sunny south shore is Poipu Beach. Before enjoying the sunset here, many visitors enjoy snorkeling in the gentle waters near the beach, which winds for about one mile in a series of crescent shapes. The area's abundant marine life, which has changed little since early Hawaiians fished these waters. In addition to swirling schools of tropical fish, eels, sea urchins and the occasional sunbathing honu (Hawaiian green sea turtles), rare Hawaiian monk seals are often spotted here swimming or lounging in the sand.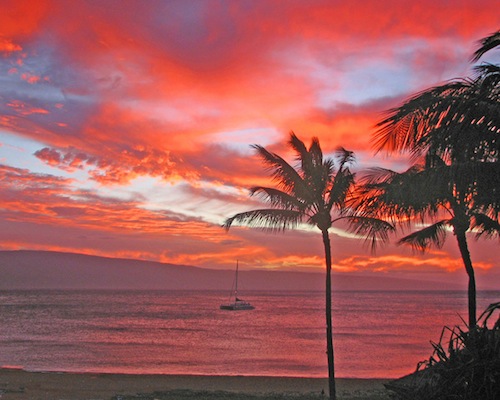 #4: Kaanapali Beach, Maui
(Last year: #2)
This mile-long expanse of white-sand beach on Maui's west side — a few miles north of the old whaling town of Lahaina — is dotted with hotels and condominiums (dominated by the Kaanapali Resort). On most days, during the hours before the sun starts sinking behind the waves, the beach is decked with sunbathers and swimmers. Besides some of the best waters for snorkeling on Maui, there's the always-entertaining pastime of watching divers leap into the ocean from 40-foot-high Black Rock. A beachwalk runs parallel to the shoreline area.
#3: Kailua-Kona, Big Island
(Last year: #3)
Established by King Kamehameha I to serve as the seat of Hawaii's government, Kailua-Kona later became a quiet fishing village and retreat for Hawaiian royalty (the capital eventually moved to Honolulu).These days, Historic Kailua Village offers a glimpse at the past as well as postcard-perfect scenery. On the grounds of King Kamehameha's Kona Beach Resort is a reconstructed temple. (The original is said to have been built by the king himself.) The dark volcanic rocks edging the water there and elsewhere along the coast make for dramatic sunsets.
#2: North Shore, Oahu
(Last year: #5, tied with Poipu, Kauai)
It takes about 45 minutes to drive from Waikiki to the North Shore's famous surf town, Haleiwa. A few miles before reaching Haleiwa's cluster of beach shops, restaurants, and shave ice destinations, you'll see the shoreline's waters. And during winter months, you'll see the world-class waves. Spanning more than seven miles, the North Shore's beaches host premiere surfing competitions. Sunset Beach, from the Banzai Pipeline area to Sunset Point, is, of course, among the most popular places to bring a camera during dusky hours.
#1: Waikiki, Oahu
(Last year: #1)
Favorite place to catch a Hawaii sunset? How could the annual crowds that continue to hold up Waikiki as the state's visitor Mecca be wrong? With its typically gentle and long-lasting wave break, the waters are perfect for learning how to stand up on a surfboard or help paddle an outrigger canoe. While much of daily water-sports activity takes place near the Duke Kahanamoku statue, the best view of Diamond Head Crater is on the sand edging the pink Royal Hawaiian Hotel. Waikiki area also includes Fort DeRussy Beach, Kuhio Beach, and Queen Surf Beach.