Top 5 favorite Hawaii small towns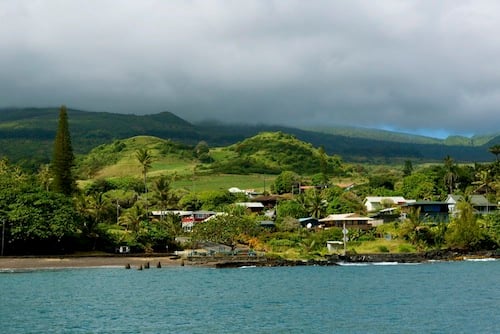 A couple thousand of you voted, we counted every answer and now we're ready to reveal the results of our latest HAWAII Magazine Facebook Ohana Poll question: "What's your favorite Hawaii small town?"
We received so many votes, in fact, that it's possible there isn't a town between Naalehu on the Big Island and Hanapepe on Kauai that didn't get at least a single vote. Votes were so numerous that we wound up surprised at some of the popular Hawaii small towns that missed our Facebook ohana's final Top 5. Among the towns that didn't make the final cut: Kapaa, Kauai; Makawao, Maui; Waimea/Kamuela, Big Island; Koloa, Kauai; and Honokaa, Big Island. One of our favorite Maui towns, Hana (pictured above), just missed the Top 5.
If you'd like to join in on our next poll and vote along with our always-growing Facebook fan page ohana, go to the HAWAII Magazine Facebook page and "like" us. In return you'll be ready to share your answers in all of our "Hawaii favorite" poll questions as soon as we post them, know the results of the poll when all of the votes are counted and get all of our daily HawaiiMagazine.com photos and features.
We'll be posting our next Ohana Poll question on HAWAII Magazine's Facebook page in the days ahead, so join soon if you haven't yet.
Until then, here's the Top 5 countdown of our Facebook ohana's favorite Hawaii small towns:
#5: Hawi, Big Island
Two decades ago, Hawi, on the lush, yet seldom-visited North Kohala peninsula of the Big Island of Hawaii, almost disappeared into the past. The century-old buildings of the once bustling plantation town were boarded up and crumbling. Visitors were few, unless they were headed to end-of-the-highway Pololu Valley. That all changed in the 'aughts when a new generation of artists and entrepreneurs moved into the area. Attracted to the same tranquil small town life that kept longtime residents in Hawi, they (and longtime residents) restored the town's decaying storefronts, filling them with unique and unusual boutiques, eateries, bookstores and galleries. Hawi today is vibrant again—with a surprisingly-numerous-for-a-town-of-its-size collection of great places to eat—but with no less of its small town appeal firmly intact. HAWAII Magazine has long been fond of Hawi and Kapaa—the latter, Hawi's neighboring North Kohala peninsula town. We're stoked our Facebook ohana shares that love, too. (Check out our Hawi and Kapaau photo slideshow.)

#4: Lahaina, Maui
It's said that Lahaina enjoyed 25 years as the capitol of the Kingdom of Hawaii between 1820 and 1845 simply because King Kamehameha III preferred the town over Oahu's bustling Honolulu. The King knew a great little town when he saw it. Modern-day Lahaina is less freewheeling and rowdy than it was back then, when it was also the whaling capital of the Pacific. Visitors these days are lured by Lahaina's appealing mix of small town retailers, eateries, clubs and lounges and familiar national restaurants and boutiques. The town remains as scenic as ever, too. A walk through its historic district reveals old word architecture from Lahaina's plantation era and stunning views from Front Street across the Auau Channel to Lanai.

#3: Hanalei, Kauai
The north shore Kauai town seems to inspire all who cross the single lane Hanalei River Bridge and find its charms, be it first-timers, return visitors or residents. Our Facebook ohana confessed its love of Hanalei's unusual shopping mix—from its country stores and art galleries to its boutique clothiers, adventure outfitters and retailers of mysticism. They sang the praises of Hanalei's surprisingly inspired dining choices—everything from burgers, wood-fired pizzas and deli sandwiches to sushi and upscale yet casual tapas. But most of all, our Facebook ohana loved the feeling of simply being in Hanalei—surrounded on all sides by luxuriant valleys, rugged cliff faces that aspire to touch the heavens, and the most breathtaking collection of white sand beaches on Kauai. (Don't believe us? Check out our Hanalei photo slideshow to see the beauty of Hanalei for yourself.) Of interesting note? Only four votes separated #3 Hanalei from the #2 town in our Top 5, which is …

#2: Paia, Maui
Paia is Maui's groovy little surf town. The epicenter of the island's famed north shore surf spots, the picturesque former plantation town is more than the gateway to the long and twisting "highway" to Hana. Paia is a must-stop town worthy of its own day of exploration—its rustic storefronts home to a hip yet casual mix of one-of-a-kind boutiques, restaurants, galleries, clothiers, coffee cafes, antique stores and, of course, surf shops. Nearby Hookipa Beach is considered the "windsurfing capital of the world," attracting pros from around the world during winter big wave season.

#1: Haleiwa, Oahu
Far and away from the rest of the pack of favorite Hawaii small town votes in our Facebook poll was Haleiwa. Haleiwa took its name from a stately Victorian hotel built in 1898 by businessman Benjamin Dillingham at the North Shore-end of his central Oahu railway line. The grand weekend getaway for wealthy Honoluluans is long gone. But the sleepy sugar plantation town that sprung up around it is now as world-renowned as the North Shore big wave surf spots it has become gateway to. During winter surf season, Haleiwa's sidewalks, retailers, shave ice stands, eateries and surf and dive shops teem with a funky mix of residents, big wave watchers and professional surfers. When the big waves calm down the rest of the year, countrified Haleiwa is still the ideal big-city escape Dillingham hoped it would be—albeit for everyone.