Top 5 favorite Hawaii valleys: HAWAII Magazine Facebook poll results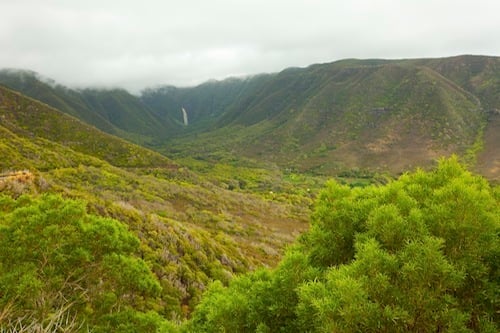 Not to brag, but Hawaii has some of the most beautiful valleys in the world.
Sure we're a bit biased. But put yourself in our slippahs. Just about every Hawaiian Island can claim a breathtaking valley. We have valleys of all shapes, sizes and terrains—populated and pristine, remote and easily accessible, lush and rugged. We've even got an island nicknamed the Valley Isle.
So when we asked our HAWAII Magazine Facebook ohana to tell us what their favorite Hawaii valley was, we knew we'd get a variety of answers.
As it turned out, there were hundreds of answers from all of you, name-checking every valley from the Big Island's very remote and way lush Waimanu Valley to the perfect example of the Hawaiian ahupuaa mountain-to-sea land division system that is Limahuli Valley on Kauai's north shore, and everything in between. After counting 'em all up, we're ready to present your Top 5 Favorite Hawaii valleys here and on the pages ahead.
If you'd like to join in on our next poll and vote along with our growing Facebook fan page ohana, go to HAWAII Magazine Facebook page and "like" us. In return you'll be ready to share your answers in all of our "Hawaii favorite" poll questions as soon as we post them, know the results of the poll when all of the votes are counted and get all of our daily HawaiiMagazine.com stories and features.
We'll be posting our next Ohana Poll question on HAWAII Magazine's Facebook page in the days ahead, so join soon if you haven't yet.
Now, however, it's time to visit some valleys. Here's the Top 5 countdown of our Facebook ohana's favorite Hawaii valleys:
#5
Manoa Valley
(Honolulu, Oahu)
Manoa is the epitome of Oahu's southshore network of urban residential valleys—populous and popular, but not without its share of sublime natural wonder and untrammeled pockets ripe for exploration. Conveniently situated near Honolulu's urban core, while maintaining a relaxed distinctly residential neighborhood feel, real estate in the valley is pricey and coveted by homebuyers. Still, the bulk of Manoa's natural beauty remains largely accessible to the public—on the valley's rain-kissed backend at the foot of the Koolau mountain range. For example, the easily traversed Manoa Falls trail, Lyon Arboretum botanical gardens and a large network of state-maintained trails along the valley's ridges up into the Koolau's.

#4
Hanalei Valley
(Hanalei, Kauai)
Fans of Waimea Canyon might disagree. But there may be no vista on Kauai more photographed than Hanalei Valley on the island's green north shore. Why? Access, for one thing. The best view of the valley is from a popular lookout conveniently located on Highway 560, just before you descend into the valley and onward to Hanalei town. The other reason, of course, is Hanalei Valley's rustic beauty—though not pristine, its wide floor is filled with picturesque taro farms cut by the windy Hanalei River. The valley is also home to the Hanalei National Wildlife Refuge, a safe haven for endangered waterbirds, waterlife and plantlife.
#3
Kalalau Valley
(Napali Coast, Kauai)
The Napali Coast's most naturally breathtaking valley is also one of its only valleys visible without a boat, helicopter or hiking shoes. Drive beyond Waimea Canyon State Park, into the mists of Kokee State Park and you'll find the dazzling view you see above of the back end of Kalalau Valley. Exploring the valley firsthand, however, takes some extra effort: kayak or boat tours if you wish to sink your toes into the white sands of Kalalau Beach by sea; or if hiking in, sturdy hiking shoes, an overnight camping permit and the stamina to traverse 11 unforgiving miles on the Napali Coast Trail. Though seemingly pristine, the valley floor was once home to large acreages of loi kalo, or irrigated wetland taro fields, farmed by early Hawaiians.

#2
Iao Valley
(Wailuku, Maui)
Iao Valley is a wonder of nature's unshakable forces—its narrow stream-cut floor and towering, foliage-filled cliffs crafted by eons of rainfall and erosion of the surrounding West Maui Mountains. The valley's most famous and easily seen natural landmark is Kukaemoku, better known as Iao Needle—a vegetation-covered lava pinnacle created by streams, which have cut down the rock surrounding it. Much visited Iao State Park offers the best views of Iao Needle and a glimpse of the central Maui agricultural land made fertile by rich volcanic soil and water carried by Iao Stream. Hikers following the stream deeper into Iao Valley will find its walls opening up into the large eroded caldera of the West Maui mountain peak Puu Kukui, a watershed and private nature preserve closed to the public.

#1
Waipio Valley
(Hamakua Coast, Big Island)
Six miles deep with a mile-long black sand and boulder-strewn beach, Waipio's considerable natural charms are as breathtaking from a scenic overlook almost 2,000 feet above the valley floor, as they are by hike, horseback or four-wheel drive vehicle on the valley floor.
The most southern of six Hamakua Coast valleys marking the Kohala Mountains drop into the sea, Waipio was once home to thousands of Native Hawaiians who farmed its vast fertile acreage prior to Western contact. The valley—also called "Valley of the Kings" because of the many Big Island rulers raised within its walls—was King Kamehameha the Great's boyhood home. These days, fewer than 100 residents live in Waipio, many of them taro farmers.

If you've got the time, we highly recommend a daylong exploration of the valley floor. Start with some beachcombing. The take the dirt road hugging the Waipio River deep into the valley's lush foliage and scattered taro farms to a view of towering Hiilawe — one of the tallest waterfalls in Hawaii. The twin falls (pictured, above) were the inspiration for Hawaii music legend Gabby Pahinui's most famous song, "Hiilawe." Visit Waipio on a sunny day during the rainy winter and spring seasons and you'll find dozens of other waterfalls cascading down the green valley walls.