Top 5 favorite Hawaii waterfalls: HAWAII Magazine Facebook poll results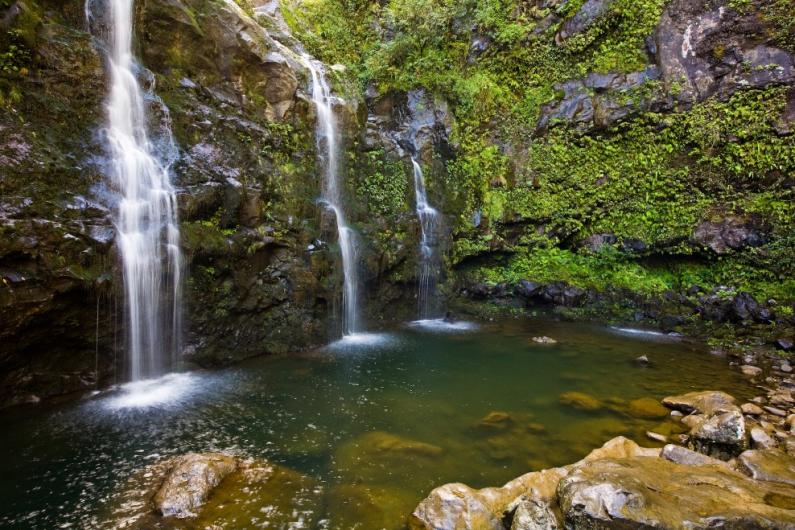 We asked you to chase a few waterfalls for us, and you did.
The votes have been tallied from our latest HAWAII Magazine Facebook Ohana poll question: "What's your favorite Hawaii waterfall?" And we've got your Top 5!
Hawaii is home to hundreds of spectacular waterfalls, many of these among the most beautiful in the world. Travel the Islands and you'll find waterfalls of all heights and sizes on just about every type of terrain, from deep in the mountains and rain forests of Kauai to seacliffs along the Big Island's Hamakua Coast.
There are waterfalls in Hawaii accessible only by arduous hiking trails, and some just outside of population centers like Honolulu, Hilo and Kapaa. Other waterfalls are so remote they can only be seen by air. On Maui's winding Hana Highway, whose rustic bridges cross dozens of mountain streams, it's possible to even drive up to several lush roadside cascades.
We knew our poll question was a tough one the moment we thought it up. But we found out readers were really having an exceptionally tough time choosing a favorite Hawaii waterfall the moment comments like these started rolling in:
"Love them all … How can anyone choose!!!" – Tammy Monahan
"Any one I am near, because it means I'm in Hawaii!!!" – Herb Ayer
"That's like asking which one of your kids is your favorite—all unique, all awesome, all special." – Lori J. Hernandez
At one point during voting, our Facebook ohana's rapidly growing list of favorite waterfalls proved too enticing for reader Josie Romero, who commented, "OMG this page is killing mmmmeeeeeeeeeee!" We hope you return to Hawaii to visit 'em all soon, Josie!
If you'd like to join in on our next poll and vote along with our growing Facebook fan page ohana, click here. Become a HAWAII Magazine Facebook fan and you'll get our "Hawaii favorite" poll questions as soon as we post them, and also get instant updates on your Facebook wall when we post all of our daily HawaiiMagazine.com stories and features.
We'll be posting our next Ohana Poll question on HAWAII Magazine's Facebook fan page in the days ahead, so join soon if you haven't yet.
But first, here's the Top 5 countdown of our Facebook ohana's favorite Hawaii waterfalls:
#5
Waimoku Falls
Where: Kipahulu, Maui
Height: 400 ft.
Waterway: Pipiwai Stream
Access: 3- to 5-hour hike on Pipiwai Trail from Pools of Oheo (aka Seven Sacred Pools) at Haleakala National Park's Kipahulu Visitor Center, 10 miles south of Hana on Hana Highway.
It isn't easy to get to Waimoku Falls. First off, there's the winding Hana Highway, which you have to drive all the way to Haleakala National Park's oceanside Kipahulu Visitor Center, 10 miles beyond Hana. Then there's a two-mile hike up Oheo Gulch, crossing Pipiwai Stream several times and a thick bamboo forest. But, oh, what a reward when the trail ends with a full view of Waimoku—the largest waterfall on Maui.
#4
Wailua Falls
Where: Lihue, Kauai
Height: 80 ft.
Waterway: Wailua River
Access: Turn off Highway 56 onto Maalo Road. Wailua Falls is at the end of Maalo Road.
You can literally drive right up to Wailua Falls—or at least the top of the waterfall. A nearby lookout offers a terrific view of the 80-foot plunge waterfall, which fans of the 1970's series Fantasy Island might recognize from the opening credits. The waterfall is especially impressive when heavy rains fill the Wailua River, sending voluminous fast-moving water over the entire span of the fall's lip. Century's ago, native Hawaiian men would leap from the edge of the falls into the pool below to prove their manhood. We wouldn't recommend that activity, or hiking the slippery makeshift trail to the bottom of the waterfall, where the above picture was taken.

#3
Kaliuwaa Falls (Sacred Falls)
Where: Hauula, Oahu
Height: 80 ft.
Waterway: Kaluanui Stream
Access: Closed to public. Visible by air tours.
The hiking trail to Kaliuwaa Falls, better known to most as Sacred Falls, has been closed to the public for 11 years. On May 9, 1999, a rockslide in the steep, narrow canyon surrounding the waterfall killed eight hikers, hastening the end of access to the popular, but geologically unstable canyon. State officials have said as recently as this year that opening the trail to the public again is unlikely. But you can still view Sacred Falls' by Oahu air tours, which offer an amazing view of the waterfall and canyon straight up into the Koolau mountain range.

#2
Waianuenue Falls (Rainbow Falls)
Where: Hilo, Big Island
Height: 80 ft.
Waterway: Wailuku River
Access: From downtown Hilo, head east on Waianuenue Avenue then bear right onto Rainbow Drive. Turn right, into Wailuku River State Park.
Like Wailua Falls on Kauai, Hilo's Wainuenue Falls (better known as Rainbow Falls) is at its most visually impressive when heavy Mauna Kea rains fill the river that feeds it. Still, we agree with our Facebook ohana that Rainbow Falls is stunning any day. Beyond Rainbow Falls' breathtaking 80-foot plunge, there's its broad foliage-covered gorge, deep plunge pool and natural lava cave to appreciate. A short trail from the parking lot offers a view of the falls from its top edge. Visit the falls on a sunny morning and you'll even see first-hand how it got its name—waianuenue means "rainbow water" in Hawaiian.
#1
Akaka Falls
Where: Honomu, Big Island
Height: 422 ft.
Waterway: Kolekole Stream
Access: From downtown Hilo, head north on Hawaii Belt Road. Turn right on Route 220 (after 13-mile marker) into Honomu town. Akaka Falls is at the end of Route 220.
Akaka Falls was far and away our Facebook ohana's favorite Hawaii waterfall, receiving nearly three times the votes of its closest competition. Many of you confessed to visiting Akaka Falls numerous times. A few make it a must-stop on every Big Island visit. Even Big Island residents return again and again to take in Akaka Falls grand visual splendor. Count us among the waterfall's biggest fans.
Nearly halfway into a short loop-trail through a luxuriant upslope rainforest (and past another stunning cascade, Kahuna Falls), your view suddenly opens to the one in the photos here: Akaka Falls plunging 422 feet into its deep, foliage-lined gorge. Few Hawaii waterfalls of this height are as easily accessible as Akaka, which contributes to its immense popularity. One of our favorite things to do? Taking first-timer visitors to Akaka Falls and watching their reaction. The bonus for us? Yet another reason to visit the falls again.