Top 5 favorite must-have Hawaii foods: HAWAII Magazine Facebook poll results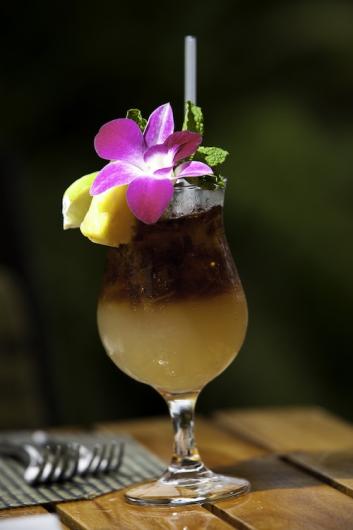 We've counted the votes from our latest HAWAII Magazine Facebook Ohana poll question: What's your must-have Hawaii food (That nosh you crave immediately upon arrival in the Islands. The top five vote-getters are on the pages ahead.
Bonus picks — In addition to sharing favorite gotta-eat grinds, many members of our Facebook ohana mentioned beverages, too. The top drinks: a classic mai tai (pictured, above) and POG (sweet blend of passion fruit, orange and guava juices).
If you'd like to join in on our next poll and vote, click here then press the "like" button at the top of our Facebook page. Become part of our HAWAII Magazine Facebook ohana and you'll get our "Hawaii favorite" poll questions as soon as we post them. You'll also get instant updates on your Facebook wall when we post our daily HawaiiMagazine.com stories and features.
We'll be posting our next Ohana Poll question on HAWAII Magazine's Facebook page in the days ahead, so join soon if you haven't yet. OK, here we go. Here's the top five countdown of our Facebook ohana's favorite must-have Hawaii eats:

No. 5 (tie)
loco moco
The least-disputed loco moco origin story dates service of the first plate of the high-calorie comfort-food creation to the late 1940s in Hilo on the Big Island at the now long-gone. Lincoln Grill. A group of hungry teenagers prompted the grill's owner to serve up a filling concoction of white rice, topped with a beef patty and brown gravy. A fried egg would follow later — at the top of the loco moco. Today, there are countless variations of the loco moco, featuring everything from Spam on top to fried rice underneath. Even celebrity chefs pay homage to the humble dish. Nori's Saimin & Snacks, a popular Hilo noodle shop, serves up a basic loco moco pictured above featuring a handmade hamburger.

plate lunch
The quintessential Hawaii plate lunch consists of two scoops of rice, one scoop of island-style macaroni salad, and an entre made with Pan-Asian ingredients. Sometimes, a little green salad turns up on the plate, too. The plate lunch pictured above includes chicken katsu, a take on the popular Japanese restaurant dish tonkatsu (or pork cutlet). Chicken katsu is essentially a chicken cutlet taken to more crunchy extremes. The recipe is easy enough: Deboned chicken thighs, butterflied, battered in flour, egg and panko (Japanese bread crumbs) then fried to a crisp, golden brown. A small cup of tonkatsu sauce (sweeter and thicker than Worcestershire sauce) is usually served on the side for dipping. Use it.
No. 4
kalua pig
The Hawaiian word kalua means "to bake in a ground oven." Traditionally, kalua pig was baked in an imu lined with hot stones. The whole pig was seasoned with sea salt, placed in the imu, then covered with banana leaves to seal in the flavor. These days it's a bit difficult to find imu-cooked kalua pork outside of a luau or Hawaiian restaurant licensed to practice the traditional cooking method. Much of the kalua pork sold commercially is slow smoked, above ground. Still, the basic recipe is essentially the same — pork shoulder butt, salt-rubbed, smoked then shredded and served piping hot with plenty of sides — rice, poi, lomi salmon or poke. At its best, kalua pig is tender and juicy, and steeped in a lightly smoky, lightly salted flavor.
pineapple
Barely 2 percent of the world's pineapple crop is still grown in Hawaii—once the world's pineapple-producing capital. But a plate of ice-cold, freshly sliced pineapple is still a popular gotta-have treat. Introduced to the Islands in 1813, pineapple grew into one of Hawaii's largest exported crops in the early 1900s after significant land investments by Del Monte and Hawaiian Pineapple Co. (today known as Dole Food Co.). Hawaii pineapple production declined in the 1980s as Dole and Del Monte relocated much of their acreage elsewhere in the world, primarily due to high U.S. labor and land costs. Dole closed down the entirety of its Lanai pineapple operations in 1992, while Del Monte harvested its final Hawaii crop in 2008.
poke
Poke— pronounced "poh-keh"—is the Hawaiian word for the action of slicing, or cutting crosswise into pieces. The fish dish, most commonly made with raw ahi (tuna), cut into cubes and seasoned with ingredients such as soy sauce, Hawaiian sea salt and sesame oil. Poke is further accented with limu (seaweed), crushed nuts, green onion and other ingredients. Early Hawaiians reportedly favored a mix fish, salt, seaweed and chopped kukui nuts (inamona). Later recipes mixed in onions and, sometimes, tomatoes. These days, you'll find a wide selection — tako (octopus) with ginger and garlic to tofu in shoyu with watercress and tomato — at Hawaii fish markets.. You can also find poke at grocery stores and in various restaurants.
No. 2
malasada
Malasadas are a traditional Portuguese confection—a ball of sweet yeast dough, deep fried gold then coasted with sugar. Many members of our HAWAII Magazine Facebook ohana expressed a fondness for malasadas from Honolulu's Leonard's Bakery, but you'll find the treat statewide. Some like 'em filled with everything from sweet custard to haupia to lilikoi (passion fruit) creams. Malasadas taste especially good after a swim, snorkeling session or any sort of calorie-burning exercise or athleticism. In December, for the first time in the Honolulu Marathon's 39-year history, more than 20,000 runners completing the 26.2-mile course were offered fluffy malasadas in addition to a finisher's T-shirt, puka shells and other souvenirs and refreshments. Good move.
Our Facebook ohana voted shave ice as their top must-have Hawaii food. Hawaii-style shave ice replaces the gritty ice of a typical snow cone with fine, fluffy snow-like ice that absorb syrup instead of allowing it to settle at the bottom of the cone. Hawaii's shave ice is also famous for the multitude of syrup flavors and incarnations vendors here are forever crafting. Among the longtime favorites: lilikoi, pineapple, green tea, coconut and strawberry syrups. Real-deal shave ice shops offer the option of burying a scoop of ice cream under the shave ice. Also on the real-deal menu: azuki beans. Mashed into a chunky paste, azuki beans are scooped into the center of the shave ice cone for an extra kick of sweetness midway through the treat. For details about other add-ons, such as a "snow cap" of sweetened condensed milk, mocha balls and li hing powder, click here.