Top 5 festivals in Hawaii 2017
The best celebration events of culture, food and entertainment in the Islands, as voted by HAWAIʻI Magazine readers.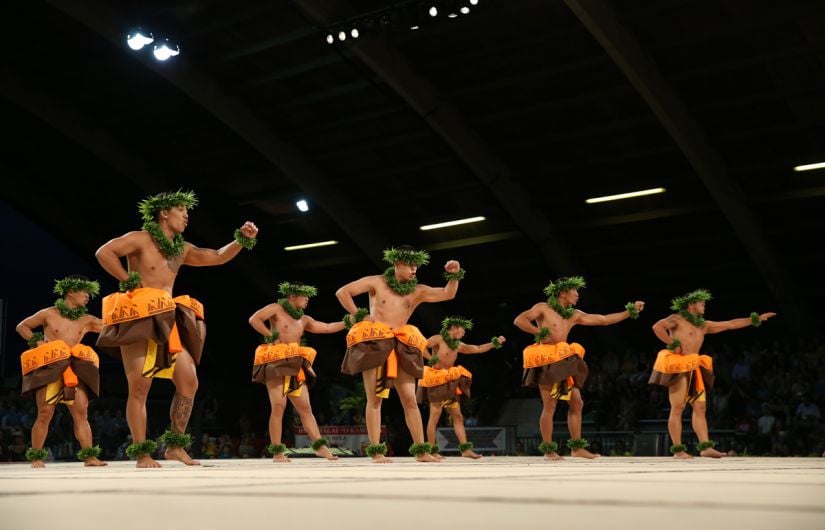 The can't-miss Hawaii festivals worth traveling for this year allow the Islands' vibrant cultures to unite and bond over a shared experience. Whether a legendary hula festival or a island-hopping blitz of food and wine events, in our "2017 Readers' Choice Awards," these favorites speak to its people's unique way of life and spirit, with gatherings you wonʻt find in any other corner of the world.
1. Merrie Monarch Festival
Hilo, Hawaii Island • The energy, the suspense, the hula! Considered "hula's Olympics," this annual festival held in April turns Hilo town into the epicenter of the honorific and artful dance. Founded in 1963, the highly-anticipated event is named after Hawaii's last reigning king, Kalakaua, nicknamed "The Merrie Monarch," whose love of Hawaii's vibrant cultural traditions helped spark hula's artistic resurgence.
Today, the Merrie Monarch Festival is a weeklong affair that kicks off with a hoolaulea (parade and public celebration), Hawaiian artisan craft fair and live music and dancing, all leading up to the three exciting nights of hula competition. All eyes are trained on the dancers—solo, women's and men's halau (groups)—who've been training all year long to take the Edith Kanakaole Stadium stage in three categories: Miss Aloha Hula, hula kahiko (ancient) and auana (modern). By the end of the festival, the winning halau and dancers take home prestigious trophies and awards, but all participants exit with a renewed pride and appreciation for hula and Hawaiian culture, the audience taken for an artful journey through Hawaii's beautiful stories and legends and everyone leaves Hilo a winner.
April 16 to 22, full event schedule at merriemonarch.com.
2. Aloha Festivals
All Islands • The largest Hawaiian cultural celebration in the United States is an event worth traveling for. Created "to foster the aloha spirit through the perpetuation of the Hawaiian culture and the celebration of the diverse customs and traditions of Hawaii," each Hawaiian Island, from Kauai to Hawaii Island, hosts their own weeklong events that highlight the unique history, pastimes and figures of its respective island. On Kauai and the Big Island, you may find activities with a paniolo (Hawaiian cowboy) slant; on Maui, there is a carnival celebrating all things associated with Hana.
Oahu's celebration is the biggest of them all, with people from all islands coming together in the bustling streets of Waikiki for a hoolaulea with gourmet and street food sizzling in rows of food tents, and plenty of games and live local entertainment to keep the crowd on its toes. The colorful floral parade down Kalakaua Avenue showcases elaborate floats, a procession of pau horseback riders and marching bands.
September 9 to 30 on Oahu, free, more info on neighbor islands to be announced at alohafestivals.com.
3. Waikiki Spam Jam
Waikiki, Oahu • Nowhere else in the world will you find the love Hawaii's local people have for Spam. Cans upon cans line supermarket shelves here (and in a mindboggling spectrum of flavors—jalapeno and tocino spam, anyone?) so it's only fitting that for one night a year, a celebration of Hawaii's favorite lunch meat spills out onto the streets for this grand old time. Kalakaua Avenue is shut down for a free block party that includes souvenir stands and food vendors, including several prominent Hawaii restaurants, cooking up surprising, creative dishes that showcase the local comfort food.
April 29, 4 to 10 p.m., free, spamjamhawaii.com.
4. Hawaii Food & Wine Festival
Oahu, Maui, Hawaii Island, Kauai • It just keeps getting bigger and bigger—and more delicious, too. The Hawaii Food & Wine Festival is a three-weekend long extravaganza of local fusion and crafty culinary flair. Unlike its contemporaries in the continental U.S., Hawaii's festival is all about highlighting fresh locally sourced ingredients from land and sea.
In years past, creative cooking themes have focused on everything from piping hot bowls of ramen to modern interpretations of luau staples. Knock elbows with Hawaii's hottest chefs, top international talent and Food Network TV stars with events that span four separate Hawaiian Islands.
October 20 to November 5, hawaiifoodandwinefestival.com.
5. Lantern Floating Hawaii
Honolulu, Oahu • Every Memorial Day, the waters of Oahu's south shore glimmer with 7,000 floating framed lanterns, small paper and wood shrines, many inscribed with names and personal messages, that each represent the memory of a loved one lost. The poignant community tradition unites more than 50,000 people from all over the world to reflect and remember as the sun sets on Ala Moana Beach Park. The cross-cultural ceremony also includes a Japanese taiko drum performance and Hawaiian oli (chant) and prayer. When the ceremony concludes, the lanterns are gathered for reuse the following year.
May 29, free, lanternfloatinghawaii.com.