Top 5 shoreline spots for whale-watching: HAWAII Magazine facebook poll results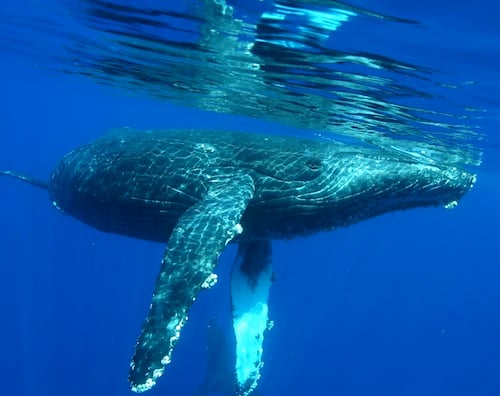 We've counted the votes from our latest HAWAII Magazine facebook ohana poll question: Where's your favorite shoreline spot for whale-watching? The top vote-getters are on the pages ahead.
Not already a part of our facebook ohana? If that's the case, you're cordially invited to take part in on our next poll. Just click here then press the "like" button at the top of our facebook page. You'll then become part of our HAWAII Magazine facebook ohana and get our "Hawaii favorite" poll questions as soon as we post them. You'll also get instant updates on your facebook wall when we post our daily HawaiiMagazine.com stories and features.
We'll be posting our next ohana poll question on HAWAII Magazine's facebook page in the days ahead. OK, here we go. Here's the top five countdown of our facebook ohana's favorite shoreline spots for whale-watching.
#5: MAKAPUU POINT
Oahu
Situated at the easternmost tip of Oahu, Makapuu Point is a longtime favorite spot for whale-watching. For the best viewing, take the winding mile-long hike up Makapuu Point trail to Makapuu Head. The paved path has an elevation gain of about 500 feet. On the way up, you'll enjoy views of the island's southeastern shore. At the top: views of the windward coast and nearby offshore islets, which serve as wildlife sanctuaries for Hawaiian seabirds. Also, there's Makapuu Lighthouse, built in 1909. On a clear day, you can see Molokai and Lanai, too.

#4: KIHEI
Maui
Once a getaway destination for Hawaii's royalty, Kihei is famous for its six miles of beaches on Maui's southwest shore — the island's sunniest and driest area. Between September and March, humpback whales are frequently spotted from this shoreline area. Learn more about the area's marine environment and ongoing conservation efforts at the recently renovated Hawaiian Islands Humpback Whale National Marine Sanctuary's visitor center in Kihei. Also, from the center's beachfront site are clear-day views of Kahoolawe, Lanai and West Maui.

#3: MAKAHA
Oahu
The powerful winter waves that roll into Oahu's Leeward Coast (west side) areas, such as Makaha Beach, are legendary in big-wave surfing circles. Also legendary are the season's whale-watching opportunities in the Makaha area. Scientists estimate that 20,000 humpbacks reside in the North Pacific. Each year, some 12,000 of those whales swim from waters near Alaska to Hawaii's warm waters to mate and nurse their young, between September and March. (The 2012-13 season started very early, with the first sighting of a whale reported in late August.)
#2: KILAUEA POINT
Kauai
Kilauea Lighthouse marks the northernmost tip of Kauai's northernmost tip. Perched atop a peninsula rising to 200 feet above sea level, the area is favorite whale-watching spot in the Islands. It's also the site of the Kilauea Point National Wildlife Refuge, which protects nesting habitat for seabirds. Whale-watching prime time at Kilauea Point falls between January and March. The site is among 15 locations on Kauai that are included in an annual winter-visitor census titled: Hawaiian Islands Humpback Whale National Marine Sanctuary's Ocean Count.

#1: KAANAPALI
Maui
Our facebook ohana selected Kaanapali (north of West Maui's old whaling town, Lahaina) as their top pick for shoreline whale-watching. The 45-ton marine mammal is frequently spotted in the waters near Kaanapali Beach, a mile-long expanse of white-sand dotted with hotels and condos (dominated by the Kaanapali Resort). If you want to leave the shoreline for a closer look, don't get too close. Federal regulations prohibit getting within 100 yards of whales (in water), and 1,000 feet (in an aircraft). For more shoreline viewing recommendations, check out HAWAII Magazine's Landlubber's Guide to Whale Watching in the Islands.