Top Maui Activities: Haleakala National Park, Iao Valley & the Road to Hana
Get on "Maui time" and stay on it by letting the pros from Valley Isle Excursions do the driving.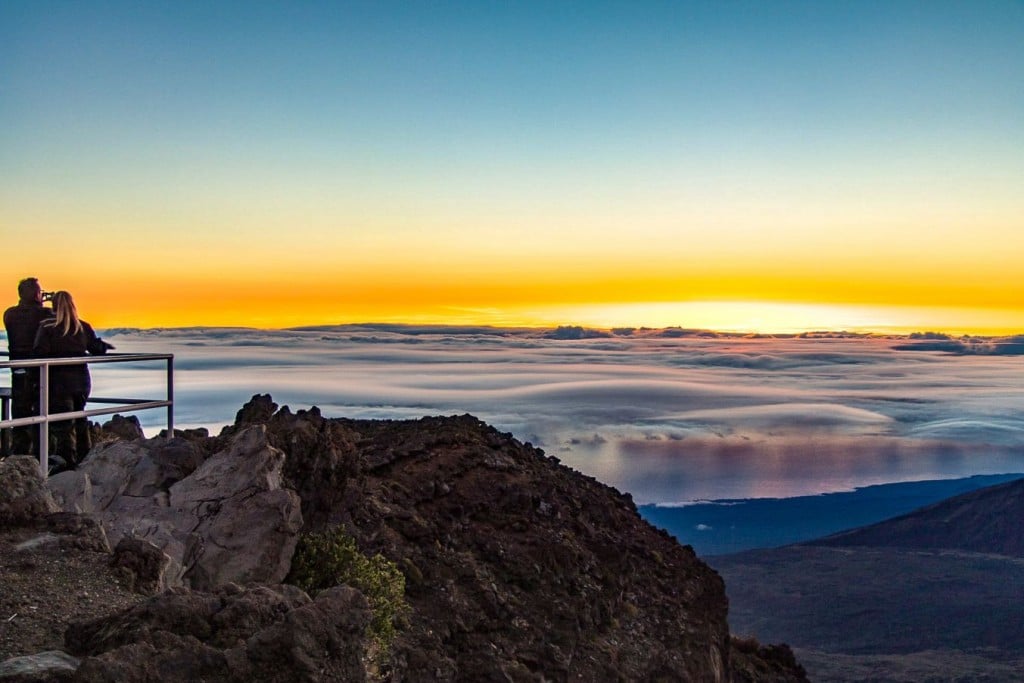 The light bounce of the tires onto the runway gently nudges you awake. You're the epitome of the phrase "zombie tourist". It's a badge of honor though, you earned it. After pulling an all-nighter just to be sure everything was done, you jumped several time zones and you're presently running on fumes. Yes, you're now totally reliant upon a pair of sunglasses and what's left of your sense of humor to get you to your new, temporary home-away-from-home. You don't even remember what you packed – besides your swimsuit, but it doesn't even matter – because you're on Maui now.
Miraculously, once you walk outside, it seems that there is considerably less to worry about in life. The air is warm and caresses your face as the palm trees sway in the wind, waving aloha to all who pass by. The sun shimmers on the Pacific's clear, turquoise waters, dancing to a tune only they can hear. Your stressed-out life back on the "madland" is all but a blur. The only thing to focus on now, besides your tan, is how you're going to get on "Maui time" – and stay on it.
After a day or two of soaking up the sun, sand and waves you'll be well on your way to slowing down to the rhythm of the island, and may even start to feel a little… restless. The key to staying in this relaxed state is don't overwhelm or "re-stress" yourself. Of course, you want to see more of Maui than just your hotel, but where to begin? A Maui tour with a Valley Isle Excursions Certified Professional Guide is great way to stay relaxed and see it all, safely.
Many visitors will want to see either Haleakala's sublime sunrise or take a daytrip to the summit to see the volcano and then explore more of Upcountry's family-owned farms and quaint Makawao. Of course, Iao's lush valley, tropical flora and "Maui's other volcano" are also quite popular, as are the waterfalls, black sand beach, exotic jungles and pools of Oheo in Hana. Probably all are on your Maui bucket list, but seeing them without stressing yourself out is key to maintaining an optimum state of relaxation on vacation.
Many visitors think they'll save a bundle if they rent a car and use a tour CD to guide themselves, instead of taking a tour, but it's not that simple. Just remember, you're on a small island with notoriously treacherous roads (BMW blog's "Most Dangerous Roads in the World" ranks Maui's Hana Highway at #5). Visitors tend to get all stressed out after they rent a car and attempt driving it themselves because they didn't know:
How difficult some of Maui's roads / sights are to find.
How dangerous Maui's roads can be once you get out of the main towns.
How long it actually takes to get to the most popular destinations due to traffic, speed limits, accidents, rock slides, etc.
Rental car companies forbid their vehicles to travel to some areas because those roads are poorly maintained and natural disasters/hazards are common.
Reservations are required at Haleakala National Park between 3 am and 7 am for the sunrise (they are often SOLD OUT).
Did you know that 13% of all driving fatalities in Hawaii are from being distracted while driving? So, if you're driving, expect to be distracted by the amazing sights. Professional guides are trained to not get distracted by the beauty because running off the road can mean a 200-foot drop, or more in some places!
Maui's roads, especially out to Hana, are considered extremely dangerous because there are very few guard rails, but there are dozens of one-lane bridges and hundreds of hairpin turns (yes, hundreds), and a speed limit of 25 mph – which in some places is even too fast. Driving unfamiliar, treacherous roads while trying to sightsee is a recipe for disaster. That said, letting the professionals handle it so you can get on and stay on "Maui time" is a great way to see it all safely, minus the extra stress and exhaustion.
Valley Isle Excursions considers it their pleasure and honor, to show you the beauty of Maui in both safety and comfort. Customized cruisers mean you can expect roomy, elevated captain's chair seating (so you'll see more than just guardrails and bushes), extra-large viewing windows, continental breakfast, post-sunrise buffet breakfast (Haleakala Sunrise only), all-you-can-drink (non-alcoholic) beverages and a delicious Hawaiian-style BBQ lunch (Veg, Vegan & GF upon request) served using real plates and cutlery.
Their drivers are personally vetted and have months of one-on-one training by Valley Isle's best. All of their guides are Certified Interpretive Professional Guides, to ensure you get the most accurate, in-depth, entertaining stories and information about Maui's modern and ancient times. It is a fun, stress-free way to experience Maui's incredible beauty. Let Valley Isle Excursions' professional local guides take you in safety, comfort and style. So you can get on "Maui time" and stay on it.
Valley Isle Excursions
466 E. Ahuliu Way Wailuku, Maui
(877) 871-5224, tourmaui.com