Top Things to do in Poʻipū, Kauaʻi
A jewel on Kauaʻi's south shore, Poʻipū—and its surrounding attractions—is a must-see for Kauaʻi visitors.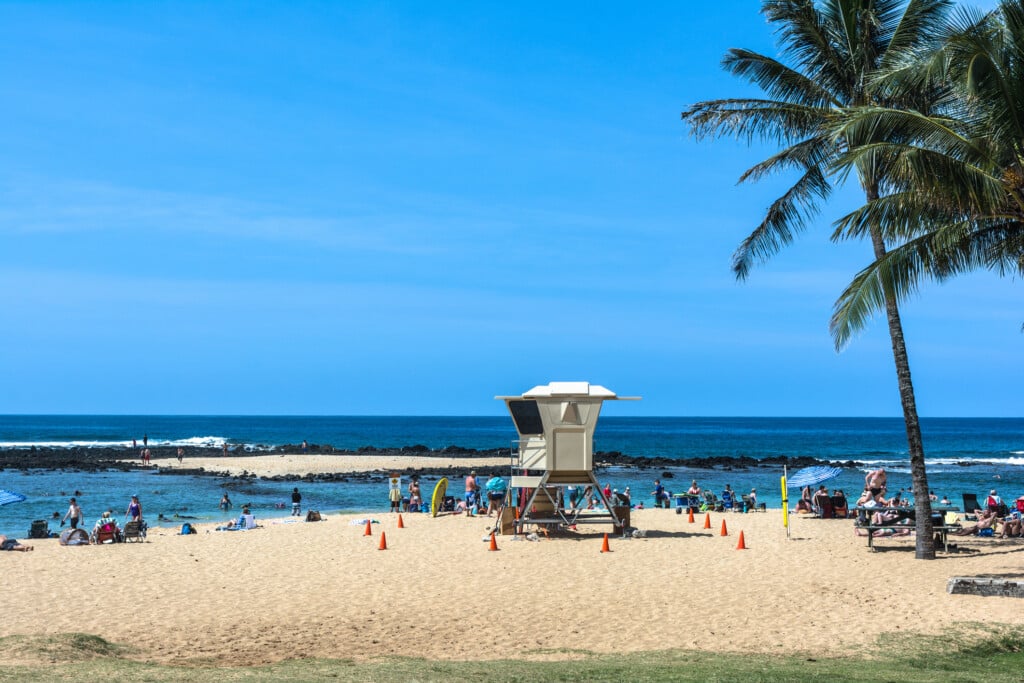 Kauaʻi's north shore gets a lot of attention—with fantastic attractions like Hanalei, Hāʻena State Park and Princeville all being clustered up there together. But Poʻipū, on the Garden Isle's south shore, is too pretty to miss. And if you're a visitor looking to fill your itinerary, there are so many things to do in Poʻipū, from checking out an ancient Hawaiian village in the midst of its restoration to visiting some of the best beaches on the island. Check out our guide below on some of the top things to do in Poiʻpū, Kauaʻi.
1. Check Out Shipwreck Beach
Just one of many postcard-perfect beaches that neighbor Poʻipū, Keoneloa Bay, also known as Shipwreck Beach, is perfect for visitors looking to check out what a top beach amongst locals looks like. The waves can be a little sketchy here—the shorebreak is for experts only when there is south swell in the water—but it's always fun to watch, from the sand, local bodysurfers catch waves and get barreled. Cliff jumping from the rocks that border the beach is also a popular activity amongst kamaʻāina (longtime residents of Hawaiʻi), however we truly recommend that you do not partake in the endeavor.
2. Visit the Kāneiolouma Heīau
It's not everyday that you can see an ancient Hawaiian village in the midst of its restoration, however that's exactly what you can experience by visiting the Kāneiolouma Heīau. Hidden in plain sight for years, this ancient Hawaiian village was discovered by Hawaiian cultural practitioners in the area, and for the past decade has been in a process of restoration and rejuvenation. While much of the village is still closed off to visitors, you can see the work that has been done from a viewing platform.
Find out more about Kāneiolouma at kaneiolouma.org.
3. Head on Up to Old Kōloa Town
Okay, so this technically isn't in Poʻīpu, but it's close enough. Home to one of Hawaiʻi's first successful sugar mills, Kōloa is a town filled with rich, vibrant history and culture. Just north of Poʻipū, Kōloa is perfect for a day with the family, as many of the shops and businesses in the town now cater to visitors looking to get a sense of that old-Hawaiʻi feel. From getting one-of-a-kind souvenirs at Crazy Shirts and Divine Planet to scarfing down a vegan plate from Lēʻahi Vegan Eats before inhaling a heaping bowl of shave ice from The Fresh Shave, there're more than enough for you to do in this quaint little district.
4. Snap a Few (Hundred) Photos of Spouting Horn
Easily on most people's top things to do in Poʻipū lists, Spouting Horn is one of the area's top visited attractions by visitors, and for good reason. An epic display of nature, here you can watch a massive plume of water shoot up from a naturally formed lava tube. While this may sound obvious, it's best to stay a good distance away from this natural phenomena, not only to keep yourself—and your camera or phone—dry, but also to make sure you don't get too close to the hole, which can cause bodily harm to those hit directly by the spray.
5. Catch the Sunset at Poʻipū Beach Park
A defining quality of a beach is how well you can view the sunset—or sunrise—from its golden shores. And at Poʻipū Beach, afternoon beachgoers get a front-row seat to the sun's majestic daily ritual. Of course, that's not the only thing that got Poʻipū Beach to the second spot on our list. Families love the shallow tidepools perfect for keiki (kids) to splash around in, and surfers can even catch a few waves at a break located just offshore.
6. Hike the Māhā'ulepū Heritage Trail
If you're a fan of history and hiking, the Māhā'ulepū Heritage Trail is a must-see. The trailhead can be found near Shipwreck Beach, and the path will take you past historic Hawaiian artifacts, like heiau (shrines) as well as interesting natural land formations you wouldn't be able to find anywhere else in Hawaiʻi. At the end of your travels is the Makauwahi Cave, a limestone cave that is home to fossils and thousand-year-old sedimentary records preserved by the cave's once enclosed habitat. (The cave is now open, due to the ceiling caving in 7,000 years ago, however parts of the cave still remain covered).