Touring Shangri La: A visit to the opulent Oahu estate of heiress Doris Duke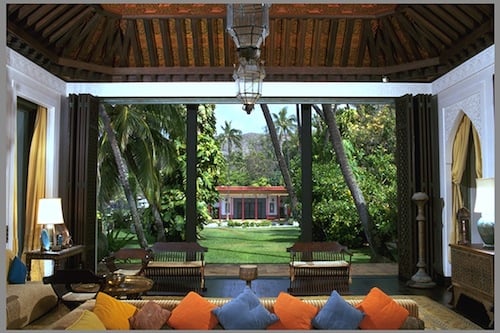 Beginning in May, tours to
Shangri La
, the opulent oceanside Oahu estate that was once home to American heiress and philanthropist Doris Duke, will have new hours. Start times for tours will be 9 a.m., 10:30 a.m. and 1:30 p.m., Wednesdays through Saturdays, from May 2.
In a news release issued this month by the Honolulu Museum of Art, which manages the estate, per Duke's wishes, as a center for Islamic arts and cultures, Shangri La executive director Deborah Pope said: "We listened to visitors about when they prefer to visit and how they want to spend their time." She added, "The new tour schedule presents convenient tour times Wednesday through Saturday and will allow for a more efficient check-in process. Visitors will continue to enjoy an hour and half at Shangri La with a guided tour in the public rooms of the main house and portions of the gardens."
Shangri La is owned and supported by the Doris Duke Foundation for Islamic Art, established after Duke's death in 1993. Estate tours are conducted by the Honolulu Museum of Art (formerly the Honolulu Academy of Arts), by reservation. For more information about tour tickets, click here or call (808) 532-3853.
The feature below, published in HAWAII Magazine's March/April 2011 issue, offers a colorful overview of the Shangri La tour and the Hawaii life of Doris Duke.

FINDING SHANGRI LA
A tour of Doris Duke's private Diamond Head estate offers a look at her life and interests, on her own terms.
Story by Catherine E. Toth
The life's passions of wealthy American heiress and philanthropist Doris Duke are on display the moment you enter her sumptuous Oahu estate, Shangri La.
Throughout Duke's home, nestled on the slopes of Diamond Head crater, are more than 3,500 objects from the Islamic world, including massive painted and gilded wood ceilings, elaborately carved doorways, intricate mosaic ceramic-tile panels and several mihrab, or prayer niches (pictured below, bottom of page), common in Islamic mosques.
In 1925, at age 12, Duke inherited more than $50 million from her father, tobacco and energy tycoon James Buchanan Duke—giving her the nickname, "The Richest Girl in the World." Duke amassed her vast collection of Islamic art from Iran, Turkey, Egypt, India, Syria and other countries throughout her lifetime, displaying much of it at Shangri La. Owned by a foundation for Islamic art Duke established prior to her death in 1993, Shangri La's opulent interiors and exteriors have since been toured by thousands of visitors.

I wasn't among them, until recently. Still, I'd always been curious about Duke's 5-acre waterfront retreat, which took two years, $1.4 million and more than 150 workers to complete. I also wanted to know how a woman of such vast wealth and world renown lived her life while on Oahu, my home island.
Born in 1912, Duke's early childhood was spent far from the Islands, at the family's 2,700-acre estate, Duke Farms, in Hillsborough, N.J. In 1935, newly wed to American diplomat James Cromwell, Duke embarked on a honeymoon tour of the world during which her interest in Islamic art was sparked by travels through the Middle East and Asia. The couple arrived on Oahu that summer, falling instantly in love with the Island's laid-back lifestyle.
Duke purchased Shangri La's acreage the following year for $100,000. By the time the home overlooking the Pacific Ocean was finally completed in 1939, the couple were divorced. But Shangri La remained Duke's Hawaii retreat for the rest of her life.
A tour of Shangri-La actually begins five miles west, at Honolulu Museum of Art, where visitors board a mini tour bus for the 15-minute drive to the ritzy residential neighborhood Black Point and the front door of Duke's former home.
It's quite a door, too—heavy, and seeming to whisper secrets beyond when opened. Our knowledgeable tour guide, Kathy Sharp, explains the door's three elements of Islamic art. There's calligraphy, much of it from the Koran; geometric designs, with stars being one of the most popular; and arabesque, an elaborate design of intertwined floral designs and still more geometric patterns.
The foyer of Shangri La's 14,000-square-foot main house is a marvel of sandstone floors made from ocean coral. Moroccan colored glass in carved gypsum plaster encircles the foyer, filtering in sunlight. "This whole house changes every hour," Sharp says.
Despite its size, the main house has only two bedrooms, including Duke's private bedroom, which isn't included on the tour. Making up for that, however, are seven bathrooms and a basement with a walk-in wine cellar, vaults and a surfboard rack. Duke was an avid surfer, taking up the sport after meeting the famed Duke Kahanamoku and his family.
Doris Duke's love of the ocean is also evident in the Playhouse, a reduced-scale version of a 17th-century Iranian royal pavilion. The two-guestroom Playhouse is separated from the main house by a 75-foot swimming pool, adorned with water terraces, white marble steps and tropical landscaping.
It's easy to imagine the golden-haired heiress walking along the narrow brick pathway in her Mughal-inspired garden, listening to the quiet rhythm of the water springing from lotus-shaped fountains. Or chatting with her girlfriends in Shangri La's dining room, once bedecked by ceiling-high saltwater tanks, now transformed into a distinctly Islamic room. The dining room has a draped fabric ceiling, cloth wall coverings and window shades made from Egyptian and Indian appliqué panels to give the effect of an elaborate tent.
A two-hour Shangri La tour turns out to be barely enough time to fully understand Duke, her ultimately complicated life and the Oahu retreat she loved. But Duke's presence is, nonetheless, infused in every detail of the estate, from the golden shower trees in the courtyard she loved to the hand-knotted Spanish carpet she designed and the 1,000-square-foot living room in which it resides.
In a way, it's almost as though she never left Shangri La.