Travaasa Hana's outrigger canoe tour of Hana Bay is culturally enriching
The sprawling 70-acre resort puts guests in touch with the small town's adventurous and legendary side.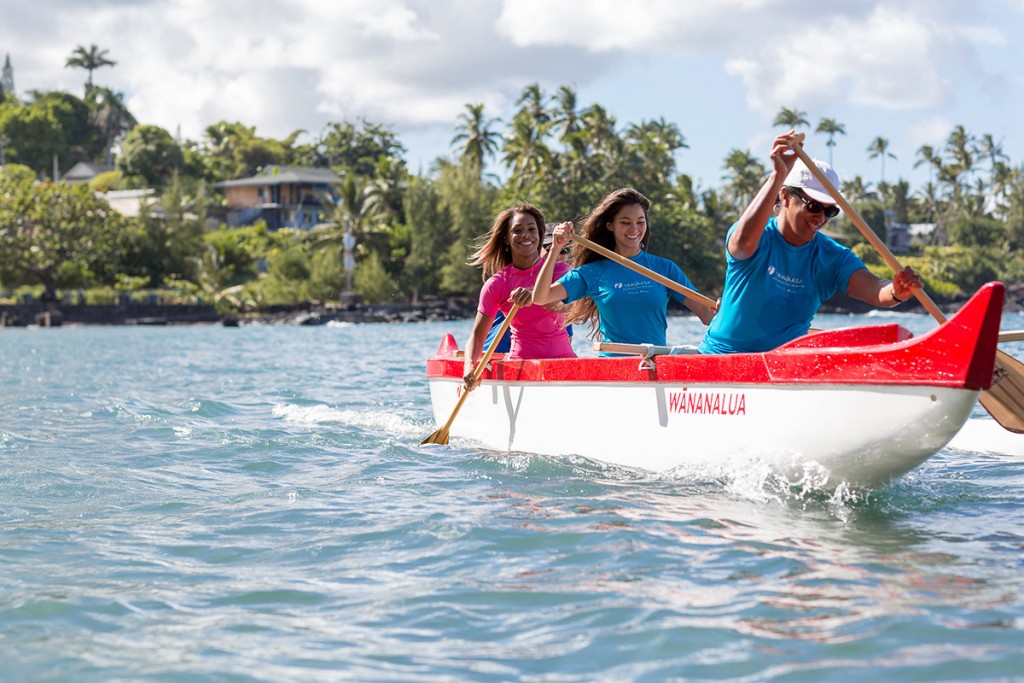 There are luxury resorts, and then there are all-inclusive, five-star luxury resorts. At Travaasa Hana, not having to lift a muscle to pull out a credit card upon ordering a freshly caught mahimahi sandwich, is a pampered sense of paradise that's real easy to get used to—something I learned during a two-night stay at the property. You could, if you pleased, stay within its designated grounds the entire time you're there and feel completely content.
This would be a mistake.
Besides its incongruous name (Hana is the type of small-town place where businesses carry generations-long last names or are matter-of-fact plain, not branded entities), the resort doesn't feel out of step with the community's humble attitude, best showcased in the resort's experiential programming of lei making, ukulele lessons, stand-up paddleboarding, coconut husking, Hawaiian spear throwing and horseback riding. I appreciate, then, being nudged by its daily activities calendar to drop the cocktail menu for an outrigger canoe paddle, if only for an hour, and venture with its staff into the natural Hana surroundings.
On the "Explore Hana–Outrigger Canoe" experience (note: this activity is an additional fee), I found myself in Hana Bay with Mapuana Kalaniopio-Cook, who organizes the cultural tours for Travaasa Hana. Kalaniopio-Cook is a treasure trove of moolelo, or legends, about the Hana area, sharing that the original place-name of the bay is Kapueokahi ("The Single Owl"). You can find oral traditions transcribed in a book these days, but there's something much more enriching about hearing them spoken as they were intended, and by someone whose Hana roots go back generations.
After an orientation on how to properly hold the hoe (paddle) and offering a Hawaiian chant on the beach, we paddle into the bay, which is a typically calm beach park frequented by local families fishing, having picnics and wading in the water. This is to say, the water is safe enough for all levels, even if you've never been within 10 feet of an outrigger canoe before.
For about an hour, Kalaniopio-Cook points out natural markers that would've gone unnoticed to me. We start with Puu Kauiki, a humble hill at the southeast. In this instance, she tells me that at the foot of the hill there's a cave where Kaahumanu, Kamehameha the Great's favorite wife, was born, and Puu Kauiki becomes that much more picturesque, fascinating and unforgettable. My favorite part was when Kalaniopio-Cook paddled us in view of Keanini, a surf spot that breaks left and right in the bay. That seems innocuous enough, until she shares the story behind it. According to legend, a handsome Tahitian chief in search of surf, asked the gods to bless him with waves. When they did, he was able to ride Keanini all the way to the shore. Eventually, two wahine (women) in love with the chief were vying to get his attention and started taking off their pau (sarongs) at opposite ends of the beach. Both started, and unable to decide on a left or right, he stopped riding the waves back to the shore. Kalaniopio-Cook retells all this as I watch Keanini diminish before it reaches the shore.
Where East Maui beaches are concerned, Hana Bay may not be as explicitly beautiful as, say, Hamoa or Waianapanapa, but don't overlook it. It's plentiful in cultural history, and paddling with the resort's adventure guides show they're the most qualified stewards to immerse yourself in Hana's adventurous landscape.
For more info on Travaasa Hana's experiential programming, visit travaasa.com.