Travel Channel's Samantha Brown touches down on Hawaii's Big Island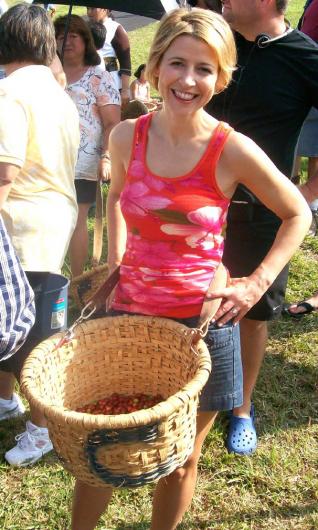 London. Paris. San Francisco. Florence. Austin. The Big Island of Hawaii.
The latest episode of Travel Channel's Samantha Brown's Great Weekends—airing Saturday at 10 p.m. (Eastern and Pacific), 7 p.m. (Hawaii)—is showcasing as much of the Big Island of Hawaii's charms as its über-cheerful, ever-game host could squeeze into one hour of television, and three days of traveling last fall.
Among Brown's adventures on my former home island: a helicopter tour of Kilauea Volcano's eruptive activity, a visit to a green sea turtle nursery at South Kohala's Mauna Lani Resort, a beachside luau at the Kona Village Resort, hula and lei making lessons at the Sheraton Keauhou, a trip to the summit of Mauna Kea with Hawaii Forest & Trail, and some java bean harvesting at the Kona Coffee Cultural Festival.
Not quite the gripping drama that accompanied last year's Maui-filmed Jon & Kate Plus 8 wedding vow renewal show, perhaps. But a lot more Hawaii scenery getting screen time, for sure. And Brown's bound to be smiling a lot more than Jon was.
One small gripe about Brown's itinerary: A good chunk of the east and north sides of the Big Island (Hilo, Hamakua Coast, Waimea, etc.) seems to have been left out of her schedule. I get it. She only had a weekend, and her destination isn't called the BIG Island for nothing. But still.
Frankly, I was surprised it took two seasons for Brown to bring her Great Weekends crew to the Islands. The self-described "travel goddess" was awarded her first taste of Travel Channel-style fame hosting the network's 2000-2001 series Girl Meets Hawaii, where she essentially traveled the Islands looking for cool stuff to do—even hanging with the late Don Ho.
She's still doing the same kind of stuff for Great Weekends that the staff of HAWAII typically does before breakfast. Only with a camera crew, and millions of Travel Channel viewers in tow.
Yeah. I'm jealous. Perhaps she'll give us a call the next time she's here.