Tsunami damage repaired, the Big Island's Four Seasons Resort Hualalai ready to reopen, April 30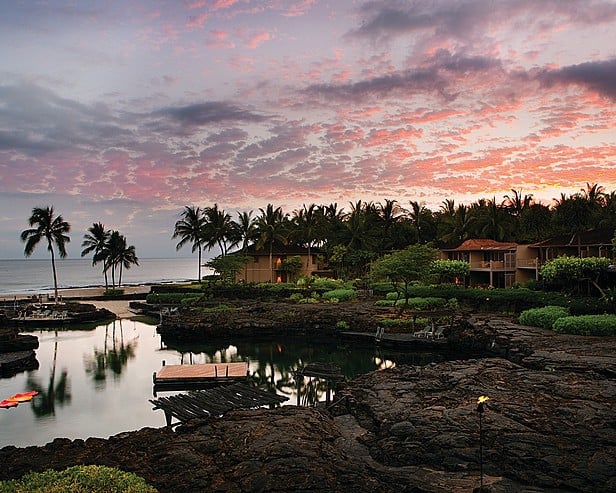 The Big Island's luxe Four Seasons Resort Hualalai, which sustained tsunami-fueled damages and closed last month will reopen for guests this Sat., April 30.
Flooding damaged 12 of the oceanfront resort's 243 rooms, pushed sand from its beach father inland, jumbled landscaping and killed stretches of the South Kohala-area resort's grass, said Four Seasons spokesman Brad Packer.
Guests were evacuated when the Pacific-wide tsunami — launched by the 9.0 earthquake that rocked Japan on March 11 — made its way to Hawaii waters. Damages to the Hualalai's rooms ranged from seawater-drenched carpeting to landscaping ruined by sand sweeping into entryways.
For the most part, Packer said, the room repairs were limited to dealing with cosmetic damages. Other repairs included planting fresh grass, landscaping and reconfiguring some stretches of beach and green areas.
Even so, not all was bleak at the upscale resort in the aftermath of tsunami waves.
"There are a couple of things that came out of this that were not altogether bad," Packer noted. "One was there's now more of a beach. The other is that King's Pond, which is our swimming aquarium, actually has more fish in it now than prior to the water coming in."
Initially, resort staffers wondered whether the pummeling had killed some of the 75 species inside King's Pond, a 1.8 million-gallon "aquarium" pool — carved out of natural lava rock. Fortunately, Packer said, the pool's 3,000 fish were fine and, perhaps, a few more species are now swimming in King's Pond, where guests go snorkeling. The resort's natural resources team is now making sure that all of the species are compatible, Packer said.
The Four Seasons Resort Hualalai was one of only two Hawaii resort properties shut down for repairs after the tsunami struck. The Kona Village Resort, which neighbors the Four Seasons Resort Hualalai, sustained major damages and will remains closed indefinitely.
For additional information about the Four Seasons Resort Hualalai and its current special offers, click here.