Tubing the ditch on Kauai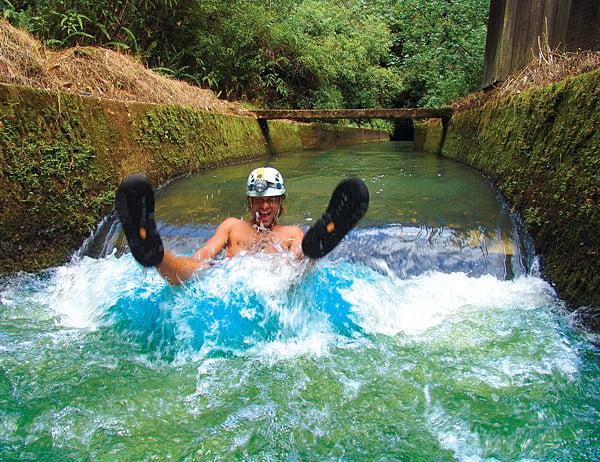 Lots of HawaiiMagazine.com readers still click daily on our February post titled, "What happened to Flumin' Da Ditch kayak tours?"
The answer remains: It's closed due to damages caused by the November 2006 Big Island earthquake, under repair, and currently doesn't have a re-opening date.
But that doesn't mean there's no ditch flumin' going on in Hawaii. It's just happening on another island.
In the July/August issue of HAWAII Magazine, writer Jan TenBruggencate spends an afternoon with Kauai Backcountry Adventures, tubing down that island's old sugar plantation flumes.
That's right, "tubing."
Instead of paddling a kayak down the irrigation canals once used by sugar planters to bring cold highland water to the lowland fields of east Kauai, TenBruggencate plants himself in a large innertube and lets gravity take control. The two-mile run down the Hanamaulu Ditch floats riders along a fern- and fruit-tree lined tropical rainforest and through five manmade tunnels.
It's a shorter journey than Flumin' Da Ditch's 16 miles of canals, but still seemed fun.
Guides give you the history of the ditch along the way. You get a headlight-equipped helmet, gloves and water-safe shoes for the trip.
Just be sure to show up sporting clothes you won't mind getting wet.
Click here for more information on Kauai Backcountry Adventures, or call (808) 245-2506. Click here for a brief video of the tubing experience.
And be sure to read about Jan's Kauai ditch-tubing adventure in the current issue of HAWAII Magazine—available now at bookstores and newsstands, by print subscription, and in a digital version you can download now.
And if you do tube the ditch on Kauai, please let us and other HawaiiMagazine.com readers know what you thought about it.