Two Hawaii tunes inducted into National Recording Registry at Library of Congress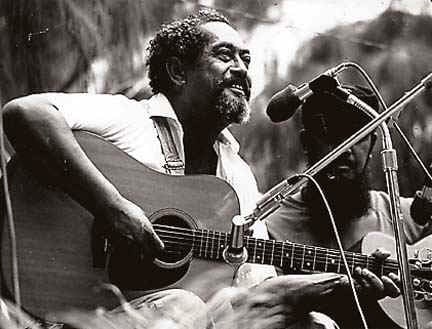 Two Hawaiian songs — one played on slack-key guitar, and the other on steel guitar — are among 25 sound recordings recently selected for induction into the National Recording Registry of the Library of Congress.
Marking the 10th anniversary of the registry, Librarian of Congress James H. Billington last week released a list of 25 sound recordings that will be preserved as "cultural, artistic and/or historical treasures for generations to come."
The Hawaii tunes are: Gabby Pahinui's Hula Medley (1947), performed on slack-key guitar, and Fascinating Rhythm (1938) by steel guitar virtuoso Sol Hoopii and his Novelty Five. The Library of Congress recognized Pahinui's recording of Hula Medley as one of the first modern recordings of Hawaiian slack-key guitar. Hoopii was cited for his role in spreading steel guitar from its origin in Hawaiian music to ragtime, jazz and pop.The Library of Congress also noted that Hoopii and his peers influenced blues and country slide guitarists.
Both late musicians were Oahu natives and have been inducted into the Hawaiian Music Hall of Fame. Hoopii (1902-1953) is rated among the best all-time steel guitar players, and Pahinui (1921-1980) played a prominent role in popularizing traditional Hawaiian music during the Hawaiian Renaissance — a revival of long-suppressed ad neglected cultural identity expressed in language, music, hula and voyaging canoes, which got under way in the 1970s.
The Hawaii music recordings join inductees ranging from Sugar Hill Gang's pioneering rap record Rapper's Delight to Donna Summer's 1977 disco hit I Feel Love and Prince and the Revolution's 1984 Purple Rain album. Among the other selected recordings: Leonard Bernstein's debut performance conducting the New York Philharmonic in 1943; the first known commercial sound recording, dating to 1888; 1930s and '40s news reports; and speech excerpts from journalist Edward R. Murrow's I Can Hear It Now radio program.
In a news release issued by the registry, Billington said: "America's sound heritage is an important part of the nation's history and culture and this year's selections reflect the diversity and creativity of the American experience." He added, "These songs, words and natural sounds must be preserved for future generations."
The list of inductees brings the registry's total to 350 recordings. For more information about the annual induction process, click here.