"Two Museums and a Royal Palace Weekend" slated for Memorial Day weekend on Oahu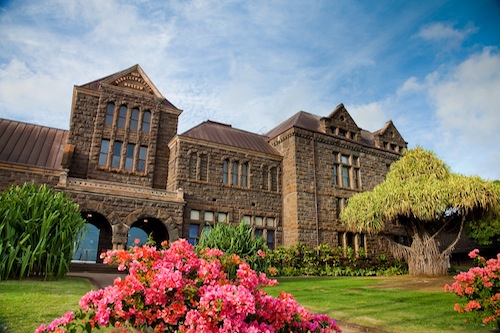 Up for a Memorial Day weekend in Honolulu filled with Hawaii art, culture and history? Check out Two Museums and a Royal Palace Weekend, a two-day event held at the Bishop Museum, Honolulu Museum of Art, and Iolani Palace.
Among the highlights: the Bishop Museum's annual Native Hawaiian Arts Market; a sale of contemporary art and jewelry at the Honolulu Museum of Art; and an opportunity to take a look at textile restoration projects under way at Iolani Palace.
A news release issued today by organizers notes that while admission to all three venues normally costs up to $51.70, Hawaii residents will pay $10 and visitors, $19.95 for the a pass to the two-day museum-crawl event slated to get under way on Sat., May 25 and wrap up on Sun. May 26.
Funded by a grant from the Hawaii Tourism Authority, Two Museums and a Royal Palace was created by Bishop Museum president Blair Collis, Honolulu Museum of Art director Stephan Jost, and Iolani Palace executive director Kippen de Alba Chu to "broaden the local experience for visitors to the Islands and to perpetuate the indigenous host culture." The event debuted in August with all three venues open for a special night. A second night event was held in January.
For additional information about the Honolulu Museum of Art, which features a collection that includes Hokusai, van Gogh, Gauguin, Monet, Picasso and Warhol, as well as traditional Asian and Hawaiian art, click here. Click here for more information about the Bishop Museum, which houses the world's largest collection of Hawaiian and Pacific artifacts and natural history specimens. And click here and here for more details about Iolani Palace, the only official residence of royalty in the United States.