Two music-filled Elvis Presley events slated for this month on Oahu, Kauai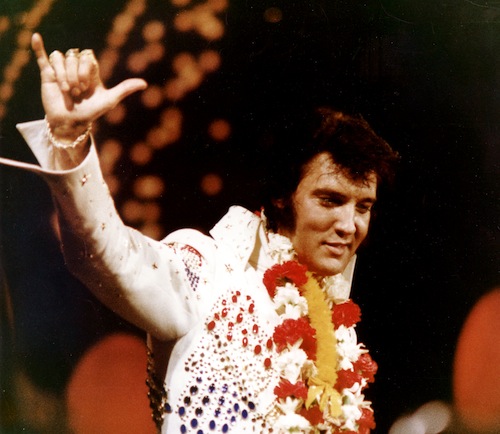 The new year is getting under way in Hawaii with a couple of Elvis events. On Oahu, Memphis-based Elvis Presley Enterprises Inc. will present a special screening of the 1973 Aloha from Hawaii concert. And on the Garden Isle, the Kauai Visitors Bureau is organizing fundraiser dubbed Kauai Loves Elvis!
Set for 7:30 p.m. on Mon., Jan. 14, at Honolulu's Blaisdell Center, the Elvis Presley Aloha from Hawaii 40th Anniversary Screening will feature re-mastered video projected on multiple screens with audio presented in Dolby 5.1 surround sound. The original Presley performance (Jan. 14, 1973) has been edited to "re-create the excitement of being there in-person 40 years ago and will include special footage filmed exclusively for this event," according to Elvis Presley Enterprises.

Presley's Aloha from Hawaii concert was beamed live via satellite and seen in over 40 countries by close to 1.5 billion people. Held at Honolulu International Center (now Neal Blaisdell Center), the concert is regarded as the most-watched broadcast by an individual entertainer in television history.

The concert served as a fundraiser for the Kui Lee Cancer Fund. Lee, a Hawaii composer and entertainer who died of throat cancer in 1966, composed of the song "I'll Remember You." Aloha From Hawaii featured that song along with several older hits and tunes from the 1960s and '70s. The lineup ranged from Blue Suede Shoes to Can't Help Falling in Love and the Beatles' Something. To purchase tickets online, click here.
Kauai Loves Elvis!, set for 5:30 p.m. to 9:30 p.m. on Jan. 18 at the Kauai Marriott on Kalapaki Beach (Lihue), will serve as a fundraiser for Kauai's United Way. The event will feature a performance by tribute artist Tim Welch, a popular performer based in Las Vegas.
According to a news release issued by the Kauai Visitors Bureau, Welch "wowed a Kauai audience last September when he performed several songs from Blue Hawaii at a celebration of the movie's 50th anniversary. At the Kauai Loves Elvis! event, he will present a 90-minute show with fan-favorite songs spanning Presley's career.
Presley filmed three movies in Hawaii: Blue Hawaii (1961); Girls, Girls, Girls (1962); and Paradise, Hawaiian Style (1965). Blue Hawaii is considered his "biggest commercial success and cemented a special relationship between the 'King' and Kauai that continues today," according to the visitors bureau. The movie's final 20 minutes were filmed on Kauai at or near Coco Palms Resort, culminating in the famous lagoon wedding scene in which Elvis and his fiancé are carried to the chapel in a double-hulled canoe filled with beautiful tropical flowers.
For more information about Kauai Loves Elvis!, click here.