Two Oahu visitor attractions now offering spooky evening Hawaii Halloween haunts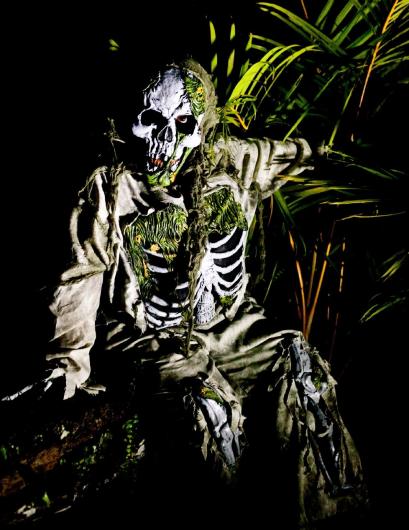 During daylight hours at the Polynesian Cultural Center on Oahu, there are family canoe races and tours, during which friendly guides talk about the six Pacific Cultures represented at the park (pictured, below). And every afternoon, a pageant on the park's lagoon showcases dance and song of Hawaii, Samoa, Fiji, Aotearoa, Tahiti and Tonga.
After sunset, though, on select evening through Mon., Oct. 31, the mood on the meandering water abruptly changes from cordial to, well, down right confrontational — in a spooky sort of way.
Canoe rides — complete with spine-tingling music and brief encounters with ghastly characters (pictured, right) — are casting off on Mondays, Wednesdays, Fridays and Saturdays until Sun., Oct. 23. From Mon., Oct. 24 through Halloween, the Haunted Lagoon will be open every day except Sunday. Canoes depart beginning at 6:30 p.m., and the ride closes at 10 p.m.
Less frightening rides run from 6:30 to 7:30 p.m. During this hour, each canoe carries a "lost warrior" who protects passengers with a light staff, which repels monsters and various other creatures.
The ride comes with a ghost story about Laie Lady, a "restless, vengeful spirit of a young woman dressed in white who fell into insanity following tragedy many years ago." Legend has it, that she now wanders the lagoon searching for her lost son. This year, according to a Haunted Lagoon press release, "it appears she is not the only one looking for him, as her vengeful, murdered husband has returned." (Yikes! We're scared already…)
Raymond Magalei, PCC's director of marketing, said in a written statement: "We have also extended the experience to about 45 minutes, which allowed us to offer a richer journey, including movie-quality special effects and costumes and a new section that starts the scares even before guests board the canoes."

For Haunted Lagoon ticket information and more details about the PCC's park in the Laie area, on Oahu's northeastern area or North Shore region, click here
Another annual "haunt," Haunted Plantation, opens tonight at Oahu's Hawaii's Plantation Village in Waipahu. Tours begin at 7 p.m. and 8:30 p.m. on Fridays, Saturdays and Sundays through Halloween night.
Hawaii's Plantation Village is a museum that tells the story of life on Hawaii's sugar plantations, from the mid-1800s through the 1950s. It features restored buildings and replicas of plantation structures such as a general store, infirmary, community bathhouse, camp office and homes of workers representing several different cultures. (Hawaiian, Chinese, Portuguese, Puerto Rican, Japanese, Okinawan, Korean, and Filipino).
For additional information about the plantation village in central Oahu and the Polynesian Cultural Center, respectively, click here and here.