"Ukulele Picnic in Hawaii" stages musical get-together, benefit concert on Oahu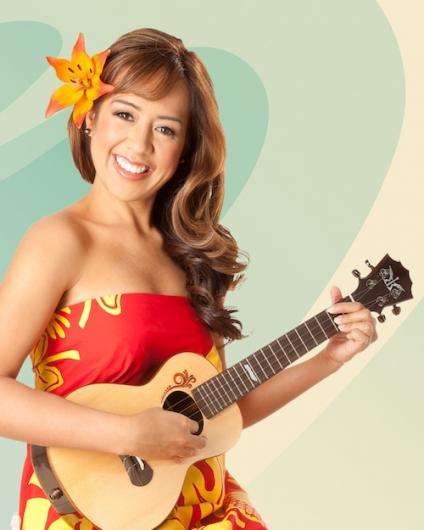 Thousands of ukulele musicians and fans of the bouncy island sound will gather in Honolulu next month for the fifth annual Ukulele Picnic in Hawaii. The two-day event, set to get under way on Sat., Feb. 9, will feature three events: an ukulele contest, a benefit concert and a daylong music-filled, picnic-style get-together.
• Third Annual International Ukulele Contest — 11 a.m. to 2 p.m. on Feb. 9, Hyatt Regency Waikiki Beach Resort and Spa. The contest will include three competition categories: solo, for performers under age 13; solo, age 14 and older; and group. Entry deadline: Jan. 30. The contest, held at the hotel's center hall stage, is open to the public. Free.
• Inaugural Hawaii Ukulele Museum Benefit Concert — 5:30 p.m. on Feb. 9, (Great Lawn) Hilton Hawaiian Village in Waikiki. The lineup features ukulele entertainers from Japan and Hawaii, headlined by BEGIN, a popular group from Okinawa. Also performing: Raiatea Helm (pictured, above), John Cruz, Ho'okena, Benny Chong, Byron Yasui and the Ukulele Orchestra from Japan. For ticket information, click here. Tickets are $35 for general admission, $55 for a reserved-seating cocktail show and $100 for reserved-seating dinner show.
Ukulele Picnic in Hawaii serves as a benefit event for the Ukulele Foundation of Hawaii, which plans to build an international ukulele museum and performance center — complete with indoor and outdoor stages, exhibit space, and education programs — at Kakaako Waterfront Park.
• Fifth Annual Ukulele Picnic in Hawaii — 9 a.m. to sunset on Sun., Feb. 10 at Kakaako Waterfront Park. Musicians from Hawaii and Japan will perform on the hilltop stage, with views of Diamond Head and Honolulu Harbor. A main stage will feature non-stop entertainment. There will also be ukulele-related exhibits and merchandise, food vendors, and a kids' area. Free. Attendees are encouraged to bring mats for lawn seating. For visitors in Waikiki, there will be a free shuttle available with pickups from Duty Free (on Royal Hawaiian Avenue) and the Hilton Hawaiian Village bus depot from 9 a.m. to 4 p.m.
The Ukulele Picnic got its start in 2000 in Shonan, Japan. With the aim of expanding and spreading the love of the ukulele throughout Japan, the fest reportedly attracts more than 100,000 attendees. The Ukulele Foundation of Hawaii aims to promote, perpetuate and share with the world, every aspect of Hawaii's beloved ukulele.
For more information about Ukulele Picnic in Hawaii, click here.