Ukulele virtuoso Jake Shimabukuro plays Chicago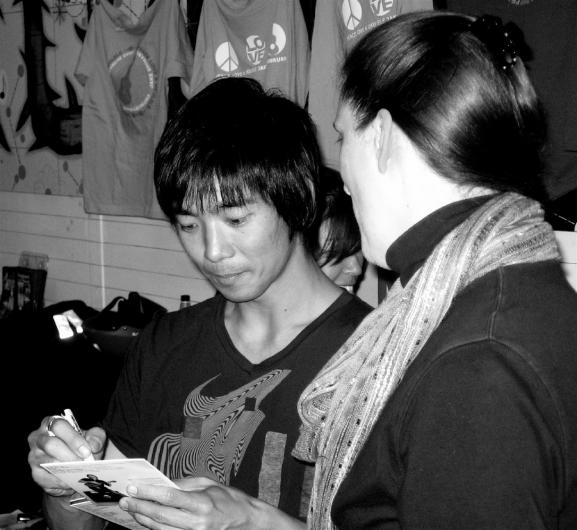 On a cold spring evening last month, Chicago warmly welcomed Hawaii ukulele phenomenon Jake Shimabukuro to the stage of the Old Town School of Folk Music.
Shimabukuro, 31, played two shows at the renowned music school—one sold out, the one I attended a near sell out. I couldn't see any flip-flops. But the audience was full of aloha shirts. I felt as if I were back in Hawaii.
Shimabukuro became legendary early in his career for his ukulele "fireworks"—rapid-fire strumming inspired by legendary rock guitarist Jimi Hendrix. On recent recordings, however, Shimabukuro has focused on showing off the quieter side of his instrument.
His CDs always display meticulous musical craftsmanship—a precision I wondered if he'd be able to maintain in concert.
I left amazed by the range, depth and emotion of his ukulele-playing throughout the 11-song set. Between songs, he'd tell warm stories of their creation, and talk about the family members, friends and heroes who have inspired him.
On "Me and Shirley T," Shimabukuro talked about how the song was written as an homage to childhood trips to an Oahu restaurant with his parents, where he often consumed too many "childrens' cocktails." The audience especially appreciated snippets of other songs he infused in the song's crescendo—in particular, The Champs' "Tequila," which brought a roar of approving laughter.
During "Blue Roses Falling"—an original song, played as a tribute to a friend's late grandmother—and Franz Schubert's "Ave Maria," you could hear each pluck of Shimabukuro's four-string Kamaka brand uke.
The concert ended with Shimabukuro's cover of the Beatles' "While My Guitar Gently Weeps"—which has become something of a YouTube phenomenon, and was praised by George Harrison's widow Olivia—and his own "Third String" composition.
Topping it all off post show? Shimabukuro happily signing autographs and posing for photos with fans.
Such a great night in Chicago. My first Jake Shimabukuro concert won't be my last.