Uncover These 3 Alternative Stays on Maui
From glamping in Olowalu to staying in a home once owned by sugarcane kingpin Henry Baldwin, these Maui accommodations are truly unique.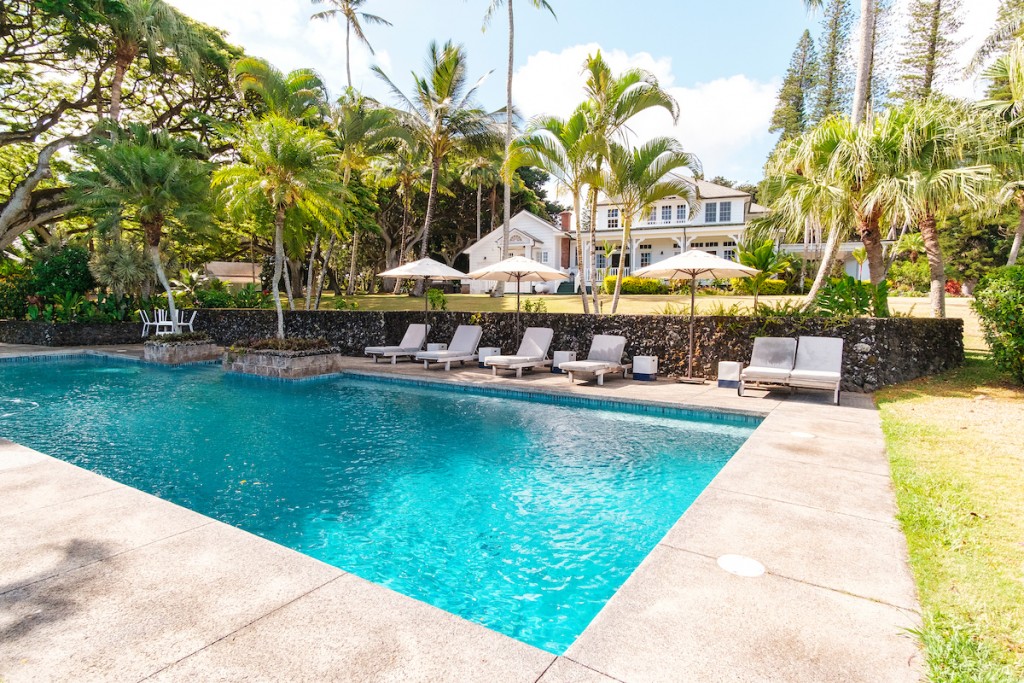 While Maui has a nearly endless amount of incredible accommodations to stay at—the Kāʻanapali Coastline is literally filled with 5-star resorts—the island also is home to some of the more unique stays in the Islands. From glamping to Henry Baldwin's old home to an adults-only escape in South Maui, here are a few to keep your eyes on.
Haʻikū House
The hale (house) on the hill, Ha'ikū House is less a house and more a mansion. Located on 20 pristine acres on Maui's northern coastline, the home was once owned by Henry Baldwin of Alexander & Baldwin fame. Every inch of this immaculate home, including its nine suites, is tastefully occupied by some sort of relic, treasure or one-of-a-kind piece of furniture gifted to the family by prominent figures of the time.
While the home is in itself a relic of the past, its interior decor has kept up with the times. After its current owner, the Chan family purchased the Haʻikū House in 2015, they put a whopping three million into interior renovations and modernizations. From a kitchen with enough marbled counter space to cook an entire lūʻau to an ultra-chic home bar and a modern entertainment center, the home is definitely with the times. Did we mention, there's not one, but two fridges? However, the renovation did a great job in keeping the homey charm and allure of the Haʻikū House's original design, still feeling like a plantation home—albeit, a huge plantation home—while finding a way to seamlessly slip in modern-day comforts.
If you're interested in booking the house, inquire at Ha'ikū House's website.
Camp Olowalu
Love the idea of camping more than camping itself? Camp Olowalu, a 700-acre beachfront campground in West Maui, offers 21 tentalows—a portmanteau of tent and bungalow— with beds and pillows, private open-air showers (with hot water), interior solar lights and
a lānai with Adirondack chairs perfect for relaxing. (There are 35 traditional campsites, if that's more your thing.) You are literally steps away from the black sands of Olowalu Beach, where the waters are typically calm and great for snorkeling and kayaking. (Tours can be arranged at the front desk.) It's like camping—only way better.
While there are no outlets to charge your phone or tablet—and the reception is slow in the area—Camp Olowalu gives visitors and locals a chance to get away from the rushing swirl of daily life and get out into nature. And if you find yourself getting a little bored at night, all you have to do is step outside and see the starlit sky—one unpolluted by the lights of the civilization you've left behind.
Camp Olowalu Tentalow rates start at $140 per night for a standard size and $195 per night for a family size, book yours on Camp Olowalu's website.
Hotel Wailea, Maui's only Relais & Chateaux
No kiddos here. Hotel Wailea, Maui's only Relais & Chateaux luxury boutique resort, offers a tranquil, ultra-private, adults-only escape in sunny South Maui. The 15-acre enclave boasts panoramic ocean views of three Hawaiian Islands, spacious poolside cabanas and an apothecary style pool bar. And now the hotel has opened up its 12 top-floor suites for truly special occasions. These recently remodeled Celebration Suites are the hotel's premium rooms, designed exclusively with milestone moments in mind. Each 720-square-foot room features unobstructed ocean views, an expansive private lānai (porch), vibrant décor, a private concierge and a chilled bottle of Laurent-Perrier Brut Champagne upon arrival.
The Celebration Suite Experience starts at $8,215 per night also includes a personal concierge to help customize unique experiences, a private dinner for two in The Restaurant's Treehouse, a couple's retreat massage, daily cabana rentals and—our favorite amenity—breakfasts in bed. (If you just want to book the suite on its own, the per-night cost starts at $1,299.) These rooms are great for honeymoons, anniversaries, babymoons, intimate weddings or just a romantic getaway. (Christmas is coming up!)
Rent your room on Hotel Wailea's website or call 1 (866) 970-4167.