University of Hawaii and Notre Dame ready for Christmas Eve bowling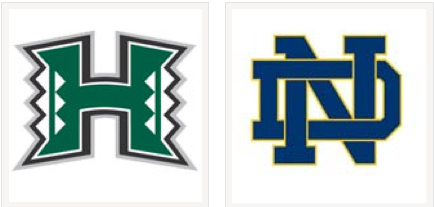 In Hawaii, Christmas Eve means family, food, maybe some early gift unwrapping … and college football.
The Sheraton Hawaii Bowl happens Wednesday afternoon at Aloha Stadium—most likely with a good portion of the state glued to ESPN watching the University of Hawaii Warriors take on the Fighting Irish of Notre Dame.
This is the Warriors' fifth trip to the Hawaii Bowl in the game's seven-year history. It's Notre Dame's first Hawaii Bowl and third match-up against UH. The teams last met in 1997—the Irish prevailing 23-22 with a late field goal. Still, about the only thing marquee about this year's Hawaii Bowl may be the names and current histories of the football programs involved.
Hawaii (7-6) expectedly declined this year, after an undefeated 2007 season—and subsequent post-season shellacking in the Bowl Championship Series Sugar Bowl. Notre Dame (6-6) has had far better years in its storied history. Still, the Hawaii Bowl should provide a great physical match-up of two teams with a lot to prove.
For the Warriors, playing postseason is a pleasant reward. Many naysayers predicted a downward spiral for UH football after the highly publicized departure of former coach June Jones and the graduation loss of quarterback Colt Brennan.
For Notre Dame, the Hawaii Bowl may be the ultimate redemption for embattled head coach Charlie Weis. The underachieving Fighting Irish have a nine-game losing streak in post-season bowl play dating back to 1995—a blemish Weis would surely love to end.
Online oddsmakers have Notre Dame 1.5 point favorites over Hawaii. Meanwhile, the more reputable analysts at ESPN forecast a 34-24 Irish win.
Us? We're confident the Warriors will pull out a "W" in its far-warmer-than-South-Bend hometown. UH quarterback Greg Alexander has been playing consistent football over the final stretch of the season, especially at home. Now if he could just get some blocking …
If you're in Honolulu for Christmas and want to check out the game in person, click here. Otherwise, ESPN has kickoff slated for, 8 p.m. (Eastern time), 5 p.m. (Pacific time) or 3 p.m. (Hawaii time).
We'll be watching. Will you?
UPDATE 12/24, 10:40 p.m.: Final score … Notre Dame, 49; University of Hawaii, 21. We still win. We don't have to go back home and shovel snow from our driveways.