Up for upbeat island tunes? Bounce to Ukulele Festival, Sun. July 17, in Waikiki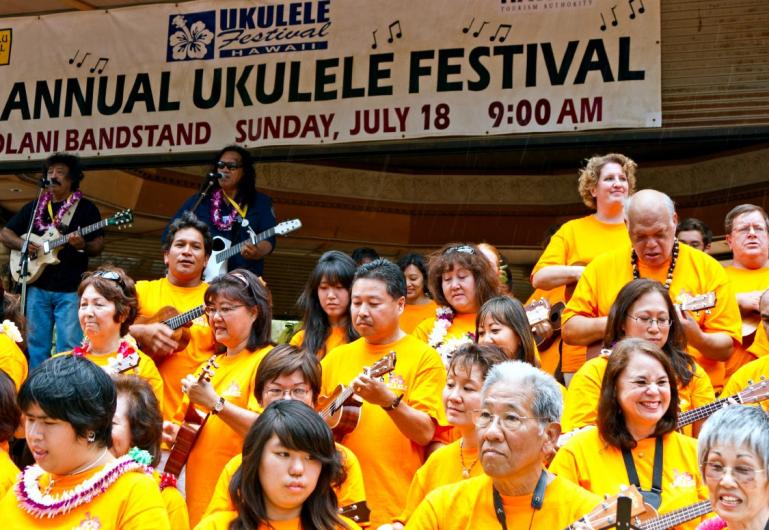 If you're in the Waikiki area this Sunday, July 17, you may see scores of passersby toting ukuleles. We recommend following the musical crowd to the Kapiolani Park Bandstand, where the 41st annual Ukulele Festival Hawaii will be under way from 9 a.m. to 2:30 p.m.
The upbeat, bouncy music just might perk up your morning more than a strong cup of joe. You may find yourself wanting to dance, sing like an old-school beachboy, or even feeling inspired to learn how to play a tune on four-stringed instrument.
The festival's stage performance lineup includes internationally known ukulele virtuosos, local celebrities and an ukulele orchestra of more than 800 students, mostly children.
Among the U.S. performers: Hawaii's Ohta-San, Jake Shimabukuro, Hookena, and Herb Ohta Jr.; California's Kaala Carmack & San Francisco J Town Hui, Sunset Strummers; and Maryland's Victoria Vox. Children, teens and adults of Roy Sakuma Ukulele Studios will also take the stage, performing popular tunes. And Danny Kaleikini, Hawaii's "Ambassador of Aloha," will serve as emcee for the 40th straight year.
The international roster includes: Tatae "Kolohe" Imamura (Japan); Singto Namchok (Thailand); Ukulele Picnic (Korea); Taiwan Ukulele (Taiwan); Luca "Jontom" Tomassini (Italy); SACS Ukulele Club (Guam); and Ukastle Ukestra (Australia).
For a complete festival performance schedule, click here.
Away from the stage, the free festival will feature an ukulele booth where you can learn strum basics, ukulele displays and giveaways, food booths, activities for children, and various merchandise, such as collectible pins, T-shirts and recyclable tote bags.
Free parking and shuttle service will be available from Kapiolani Community College to Kapiolani Park Bandstand and back, 8 a.m. to 3:30 p.m. For additional information about the nonprofit Ukulele Festival Hawaii, click here.