Upgrade Your Rubber Slippers With These Local Labels
Let's get one thing straight: These are called slippers.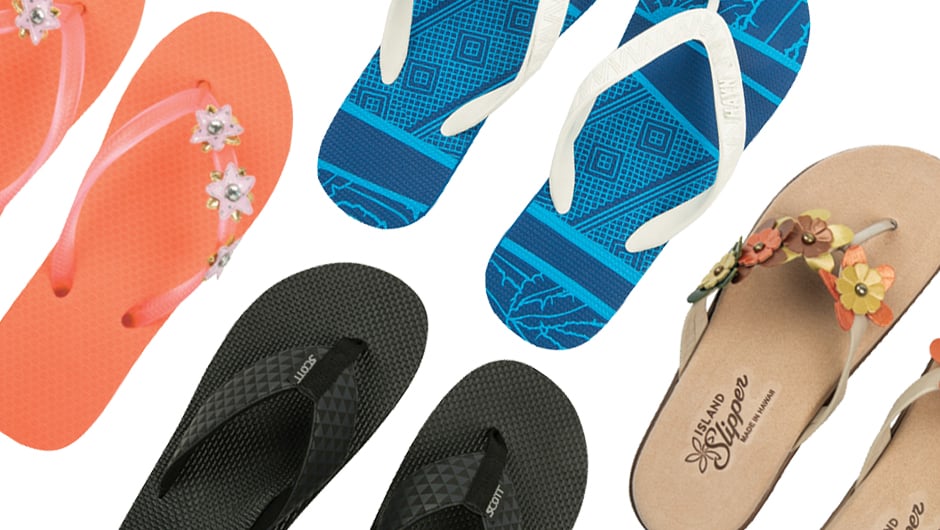 "Slippahs" if you want to be truly local from your sole to your soul. But NEVER flip-flops. Say "thongs" and watch residents' eyebrows rise. A plantation old-timer will understand you if you say "geta," the Japanese word for the footwear Islanders borrowed and made iconic. If it's got a backstrap, a raised heel or it doesn't anchor between your toes, it's a sandal, not a slipper.
Still, as seriously as we take our terminology, the foot fashions here show we're willing to go beyond the old standby rubber slipper—"rubbah slippah," if you've been paying attention—and inject some style into our soles. And remember: Always remove your slippers before entering a local home!
Scott Hawaii
A longtime local slipper company with a reputation for quality, Scott Hawaii backs its status with a "lifetime-of-the-sole" guarantee. Basic styles start around $24—a considerable jump up from cheap drugstore slippahs, yes, but these last much longer. Keep an eye on Uncle, who may try to "upgrade" his budget pair by stealing these simple, sturdy styles should you leave a pair on his doorstep. Lots of pretty, colorful options for women and keiki, too.
scotthawaii.com
Island Slipper
These are the slippers you don't let anyone borrow. The ones for when you want to get really fancy, but still kick it with your toes out. Genuine leather classes up, and makes more durable, the high-end offerings from this Oahu-based company that has made slippers for more than 60 years. Island Slipper is also the last of the original Hawaii slipper factories to make 100 percent of their product in the Islands.
islandslipper.com
HAYN + Sig Zane
This collaboration between the Hawai'i Island-based HAYN (pronounced Hah-why-an, get it?) design crew and venerable Hilo aloha shirt designer Sig Zane stays true to the rubber slipper mode, with an eye toward the high-fashion stylishness for which Zane is renowned. The nature-based designs are available exclusively at Sig's Hilo shop.
wearehayn.com, sigzane.com
Flip Flop Workshop
OK, we see the dreaded double-F word in their moniker, too. But since FFW boasts Hawai'i Island roots (and we like a good rhyme scheme) we'll give it a pass. Its fun-on-your-feet concept allows you to design footwear as fabulous as you feel. Everything, from soles to straps to spangles, is left up to you to choose. Decorations are priced á la carte, so the snazzier you get, the pricier your pair. A strictly hands-on activity, you'll have to design your slippers in one of FFW's three O'ahu stores. But it's a good reason to visit the island, no?
flipflopworkshops.com