USS Arizona Memorial part of tri-state WW2 national monument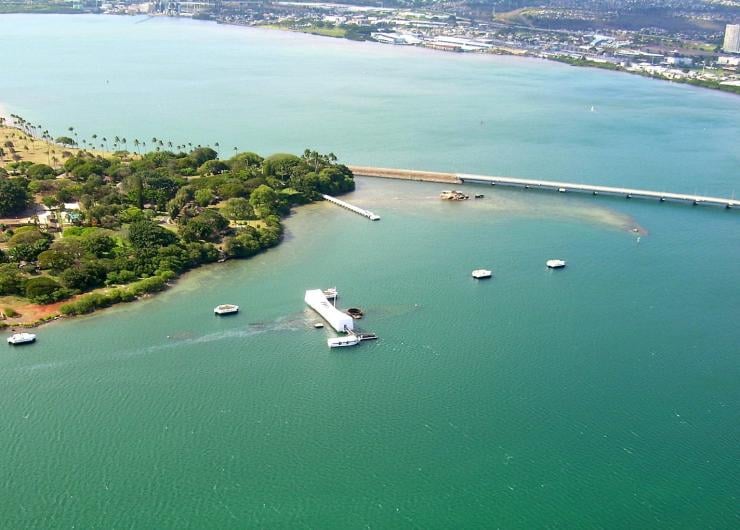 With the anniversary of the attack on Pearl Harbor still fresh in the minds of Americans this week, President George W. Bush proclaimed nine historic sites in three states a unified national monument. A number of spots around the Pearl Harbor area are included, along with sites in California and Alaska.
According to a White House press release, the World War II Valor in the Pacific National Monument will serve to commemorate "various aspects of the war in the Pacific."
Five Hawaii sites are featured: the USS Arizona Memorial and Visitors Center, USS Utah Memorial, USS Oklahoma Memorial, six Ford Island officer bungalows and several mooring quays at Battleship Row. Recognized for their connection to the attack on Pearl Harbor, the sites are "milestones of the Pacific campaign that mark the beginning and the end of the war," according to the release.
Noticeably absent from the list are the actual USS Arizona and USS Utah battleships. They will not be designated as part of the national monument to allow for the Department of Defense to retain control of the vessels.
Being selected as a national monument generally increases a site's protection and visibility. The National Park Service and the U.S. Fish and Wildlife Service will manage the Valor in the Pacific Monument.
Among the other sites listed: Northern California's Tule Lake, which once housed Japanese-American internment camps, and three of Alaska's Aleutian Islands, including the site of the only land battle fought in North America during World War II.