VIDEO: Fleeting view of spattering lava at edge of Kilauea volcano's Halemaumau crater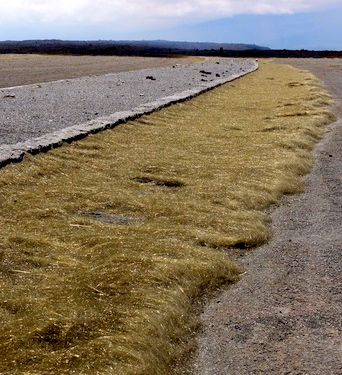 The Big Island's Hawaiian Volcano Observatory released a video last week that spotlights lava spatter at the margins of the lava lake in Kilauea volcano's Halemaumau crater. Scientists note that the video shows typical flow activity that's usually obscured from view by a thick gas plume shifting with the winds over the lava lake. (To check out the 58-second video, click on image below.)
Since March 2008, the lake's levels have fluctuated between 230 feet to 490 feet below the crater floor. The fiery glow of the lava lake, cast against the gas plume, is visible at night from an outlook area near Hawaiian Volcano Observatory in Hawaii Volcanoes National Park.
Earlier this month, Pele's hair (thin strands of solidified lava) covered much of the ground in the area immediately downwind of the vent at Halemaumau crater. Accumulations about three feet wide were found on the windward sides of the curbs in the Halemaumau parking lot (pictured, above).
Another lava lake, in Puu Oo, a cinder cone on Kilauea's eastern flanks, also remains active, with slow-moving flows on a coastal plain. The flows are about one mile from an ocean-entry point, according to an observatory report issued this morning. In December, for the first time since 2009, lava entered the boundaries of Hawaii Volcanoes National Park and flowed into the ocean. That entry point became in-active in January.
Puu Oo began erupting in January 1983. The ongoing eruption is among the longest-lasting Hawaiian eruptions in recorded history. The first written accounts of eruptions in Hawaii date back to the 1820s, when American missionaries arrived on the Big Island.
VIDEO: Lava spatter shown here is being tossed 16 feet to 32 feet in height at an edge of the lava lake in Halemaumau crater. The slow migration of the lava lake surface is normally toward the area of spattering, where the lava sinks back into the magmatic system.
For daily updates on Kilauea volcano activity, issued by Hawaiian Volcano Observatory website, click here.
HawaiiMagazine.com has reported regularly on lava activity at Kilauea volcano and Hawaii Volcanoes National Park on the Big Island. Click here to catch up with all of our Volcano News posts. You can also follow our updates on our Twitter and Facebook pages.