VIDEO: Hawaii location shooting ends on Disney's Pirates of the Caribbean 4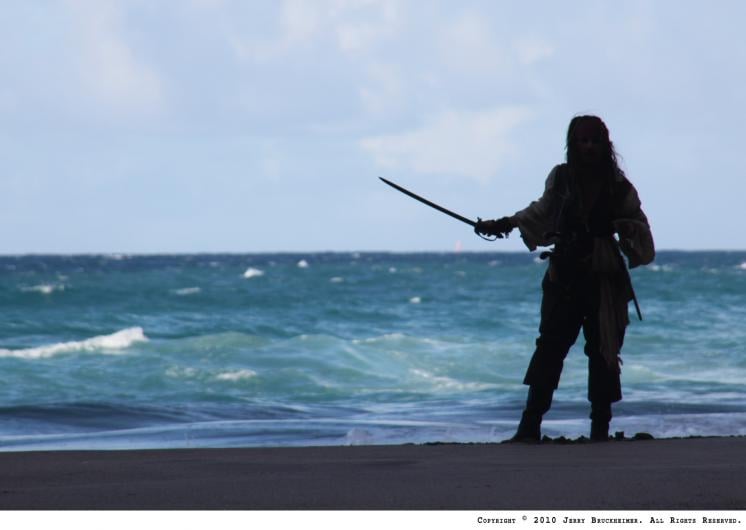 It's time to bid "Aloha!" to Capt. Jack Sparrow and his crew.
Hawaii location shooting ends today on Pirates of the Caribbean: On Stranger Tides, the fourth installment in Walt Disney Pictures mega-blockbuster action-comedy series.
"Mahalo to everyone in Hawaii who made our PIRATES 4 shoot such a great one," executive producer Jerry Bruckheimer wrote on his Twitter account this morning. "You taught us "aloha" isn't just a word."
Right back 'atcha, Mr. Bruckheimer! (The photos you see here are his.)
The Pirates 4 production celebrated the end of Hawaii filming last night with a hush-hush wrap party … location still unknown to this uninvited writer. The Pirates 4 crew and cast—which includes Johnny Depp reprising his role as Capt. Jack Sparrow, Geoffrey Rush as Capt. Hector Barbossa and Penelope Cruz as new Capt. Jack love interest/foe Angelica—now moves on to California and London for more filming.
Hawaii location filming of Pirates 4 began June 14 on Kauai's Napali Coast, continuing at multiple sites on the island through late July. The production then moved to Oahu, with the bulk of filming taking place at Kaneohe's Heeia Pier aboard the Queen Anne's Revenge (upon its Hawaii arrival, mistakenly believed to be the previous films' Black Pearl). Other Oahu production locations included Halona Beach Cove—aka From Here to Eternity Beach, where Deborah Kerr and Burt Lancaster famously rolled in the surf in the 1953 movie.
Save for a handful of evenings out around town, the cast largely kept a low profile while on Oahu. Star Johnny Depp was probably the most visible, popping up occasionally at a handful of Honolulu restaurants and lounges. It's not a stretch to say Hawaii Pirates fans will likely miss Depp most. Over the last two weeks of Hawaii filming, Depp made a regular habit of shaking hands with fans gathered at Heeia Pier as he arrived for work.
As crowds numbering in the hundreds gathered at the pier each evening, videos like the one below of nighttime filming on the Queen Anne's Revenge quickly began showing up all over YouTube.
When will fans of the gloriously charismatic and perennially inebriated Capt. Jack get to see just how terrifically Hawaii subbed for the Caribbean? May 20, 2011, when Pirates of the Caribbean: On Stranger Tides opens nationwide at the usual theater near you.
Pirates 4 production at Halona Beach Cove, Oahu:
Johnny Depp arriving at Heeia Pier, Kaneohe for work:
Johnny Depp as Capt. Jack Sparrow: 2010 Comic-Com greeting, filmed in Hawaii: