VIDEO: Hawaii music legend Richard Hoopii sings "Oluolu Kahakuloa" at his Maui home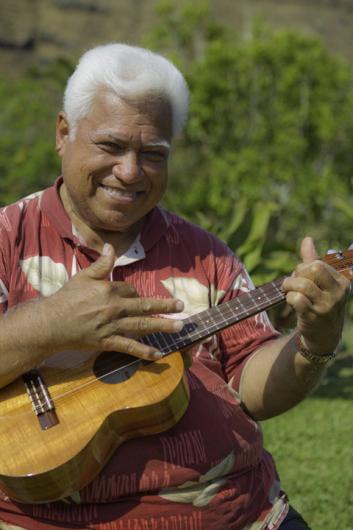 Everyone's heard of the road to Hana. Thousands of Maui visitors drive it each year, all 52 miles of twisty turns, one-lane bridges and luxurious rainforest scenery. It's one of the most scenic roads in Hawaii.
No one talks much about Maui's other hidden drive, the road from Kapalua around the north side of the West Maui Mountains, even though the road takes you along a spectacularly rugged lava coastline, with remote snorkel spots, marine preserves and a village tucked along a rocky bay.
In the September/October 2010 issue of HAWAII Magazine, we take you with us for a drive on that road. In the feature, "Maui's Hidden Drive," we introduce you to the beaches, bays, small towns, businesses and people of Maui's rugged, yet very scenic northern tip.
One of those people we met along the way was revered Hawaiian musician Richard Hoopii, who lives in the small seaside village of Kahakuloa, population about 100 souls. Revered for his singing in the Old Hawaiian leo kiekie falsetto style, Hoopii is a national folk arts fellowship recipient. He learned music in Kahakuloa, singing in a little church.
You can read more about our chance meeting with Hoopii, his daughter Roseanne and wife Ululani in the print edition. But here we share a video of Richard doing what he does best.
While we were sitting with Richard in his backyard, he asked Ululani to bring him his ukulele. Then, sitting in a lawn chair in his backyard, Richard played and sang "Ohuohu Kahakuloa," a song he learned from his kupuna (elders). As you'll see, it was a sunny late afternoon, and a 69-year-old, warmhearted Hawaiian with a voice like an angel was singing a song about Kahakuloa right in the heart of the place.
HAWAII Magazine photographer David Croxford scrambled for his camera. We invite you to click on the video below to see and hear what we did.
Our mahalo to Richard and his family for their hospitality!