VIDEO: Honu hatchlings crawl from turf to surf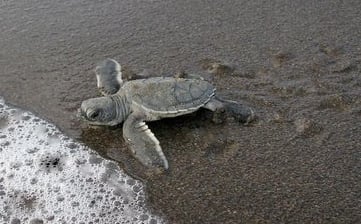 We found a great video in our e-mail this morning of just-hatched Hawaii hawksbill sea turtles making their way to the ocean.
The video was shot on the Kau coastline of Hawaii's Big Island near Punaluu and posted by Big Island videonews.com.
The honu—Hawaiian for "turtle"—were watched over by residents of the area for weeks before hatching to protect the eggs from predators. One resident in the video even slept nights next to a protective enclosure set up to keep the eggs safe while they incubated.
You'll notice in the video that no one ever handles the turtles, and that once hatched they were given space to climb from their nest over the rocks and black sand into the surf.
Pacific green sea turtles (above pic) and hawksbill turtles (or honu'ea) are protected by the federal Endangered Species Act as well as Hawaii state law. As with other endangered Hawaii animals like monk seals, people are required to keep their distance or face potential charges.
Click here to enjoy the video.