VIDEO: Inside Obama's Hawaii beachfront house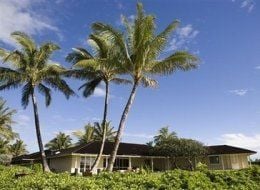 You ask. We answer.
HawaiiMagazine.com reader Paul Krueger of Baltimore, Md., wrote asking if we could find any Web video of the Kailua home where president-elect Barack Obama and his family are spending the holidays.
The Obamas have been vacationing in Hawaii with a small clutch of friends since Dec. 20. Their home away from home? A multimillion-dollar beachfront compound on a quiet peninsula in the east Oahu bedroom community of Kailua.
Since arriving, Obama has motored daily with wife Michelle to a gym at nearby Marine Corps Base Hawaii for hour-long morning workouts, played a few rounds of golf at Olomana Golf Links and enjoyed an outing with his daughters to Sea Life Park and a shave ice stop in residential suburb Hawaii Kai. He also attended a private memorial service for his late grandmother, later scattering her ashes into the surf at Lanai Lookout.
Other than that, though, the Oahu born-and-raised Obama has barely left his Kailua rental.
We can now see why.
Click here for a video report we found from reporter Ben Gutierrez of Honolulu television station KITV.