VIDEO: New views of lava flow, lava tube system on Kilauea volcano's eastern flanks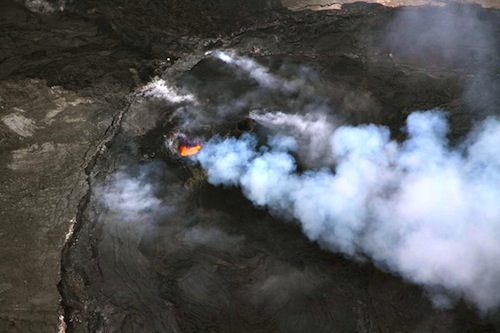 Scientists at the Big Island's Hawaiian Volcano Observatory have released a video that spotlights a new view of swiftly flowing lava made possible by a collapsed spatter cone (pictured, right) at Puu Oo crater on Kilauea volcano's eastern flanks.
Filmed from an aircraft overflight, the video shows lava moving in a northeastern direction where it will enter a lava tube system that feeds the active flow field, according to observatory reports.
The video continues with a flight along the active lava tube system, "with the trace of the tube evident by numerous fuming points," according to reports. The video's footage ends just short of the area of active pahoehoe (smooth lava) breakouts, where lava exits the tube system and continues flowing along downslope surface. As of yesterday, these flows were active about 330 yards north of the boundary of Royal Gardens subdivision.
In December, active pahoehoe flowed into the Royal Gardens subdivision and close to its last occupied residence. The residence is still standing today, but the recent flow came within 500 yards of "Lava House" bed-and-breakfast.

 During 1983 — the year Puu Oo began erupting — lava flow destroyed houses and other buildings in Royal Gardens, which was then a largely undeveloped 1,800-acre community.

Puu Oo's ongoing eruption is among the longest-lasting Hawaiian eruptions in recorded history. The first written account of an eruption in Hawaii dates back to the 1820s, when American missionaries arrived on the Big Island.
Interested in learning more about volcanoes while hiking in the Kilauea area? If you're on the Big Island on any month's second Sunday, you're in luck.
On the second Sunday of each month, the Friends of Hawaii Volcanoes National Park hosts Sunday Walk in the Park, noon to 2 p.m.
This month's walk (slated for Sun. Feb. 12) is a guided 3-mile round-trip walk in Mauna Ulu area. Mauna Ulu, which means "growing mountain" in Hawaiian, is a recently formed shield volcano. The Mauna Ulu eruption of Kilauea began in 1969 and ended in 1974, leaving an altered landscape of fascinating geologic features such as: fissures (pictured, left), hardened lava rivers, lava trees, cinder cones and lava shields.

Sunday Walk in the Park is free for Friends of Hawaii Volcanoes members, and non-members may join the non-profit organization for an annual membership of $30 for individuals and $45 for families. For more information about the monthly walks or the nonprofit group, call 808-985-7373 or click here.
VIDEO: This view of lava flow was made possible by the collapse of a spatter cone. Lava can be seen flowing toward an apparent lava tube system. You cannot see the lava funneling through the system. However, the path of the system is charted by numerous fuming points, according to Hawaiian Volcano Observatory reports. (To see video, click on the image below.)
Daily updates on Kilauea volcano activity are available at the Hawaiian Volcano Observatory website.
HawaiiMagazine.com has reported regularly on lava activity at Kilauea volcano and Hawaii Volcanoes National Park on the Big Island. Click here to catch up with all of our Volcano News posts. You can also follow our updates on our Twitter and Facebook pages.