VIDEO: Vigorous lava spattering in crater vent at Kilauea volcano's summit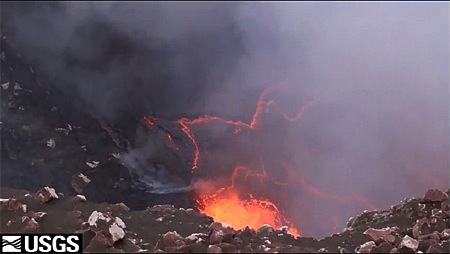 Scientists at the Big Island's Hawaiian Volcano Observatory have released a video that depicts vigorous lava spattering this week at Kilauea volcano's summit, Halemaumau crater.
The spattering on the south side of the crater's lava lake (pictured, right) has reportedly picked up since Tuesday when the lake's level was gauged at about 260 feet (80 meters) below the crater's floor. (Check out the video at the bottom of this page.)
Since March 2008, the lakes levels have fluctuated between 70 meters to 150 meters below the crater floor. The summit lava lake is deep within a cylindrical vent with nearly vertical sides inset within the east wall and floor of Halemaumau crater.
Lava activity is also reportedly picking up at Puu Oo, a cinder cone on Kilauea's eastern flanks. Puu Oo began erupting in January 1983. The ongoing 29-year Puu Oo eruption, among the longest-lasting Hawaiian eruptions in recorded history. The first written accounts of eruptions in Hawaii date back to the 1820s, when American missionaries arrived on the Big Island.
Want to learn more about Hawaii volcanoes?
This month, Hawaiian Volcano Observatory, in cooperation with Hawaii Volcanoes National Park and the University of Hawaii at Hilo, is presenting its third annual Volcano Awareness Month, which includes offerings ranging from talks with scientists to walks with naturalists and art exhibitions. Click here to check out the listings.
Also, this year Hawaiian Volcano Observatory is marking its centennial anniversary. "Watching the Volcano," in the January 2012 issue of HAWAII Magazine, takes a look at what its like to work on the edge of continuously active Kilauea volcano.
Daily updates on Kilauea volcano activity are available at the Hawaiian Volcano Observatory website.
HawaiiMagazine.com has reported regularly on lava activity at Kilauea volcano and Hawaii Volcanoes National Park on the Big Island. Click here to catch up with all of our Volcano News posts. You can also follow our updates on our Twitter and Facebook pages.
VIDEO: Spattering along the south edge of the Halemaumau crater's lava lake. Lava is upwelling in the northern portion of the lake (out of view) and slowly migrates to this south side where it sinks back into the conduit. Click on the image below to see video.