Vintage Lines is an Aloha Shirt Collector's Dream Gallery
Put together by aloha shirt aficionado Dale Hope, this gallery, which runs through the end of September, is a must-see for those interested in the tropical garment.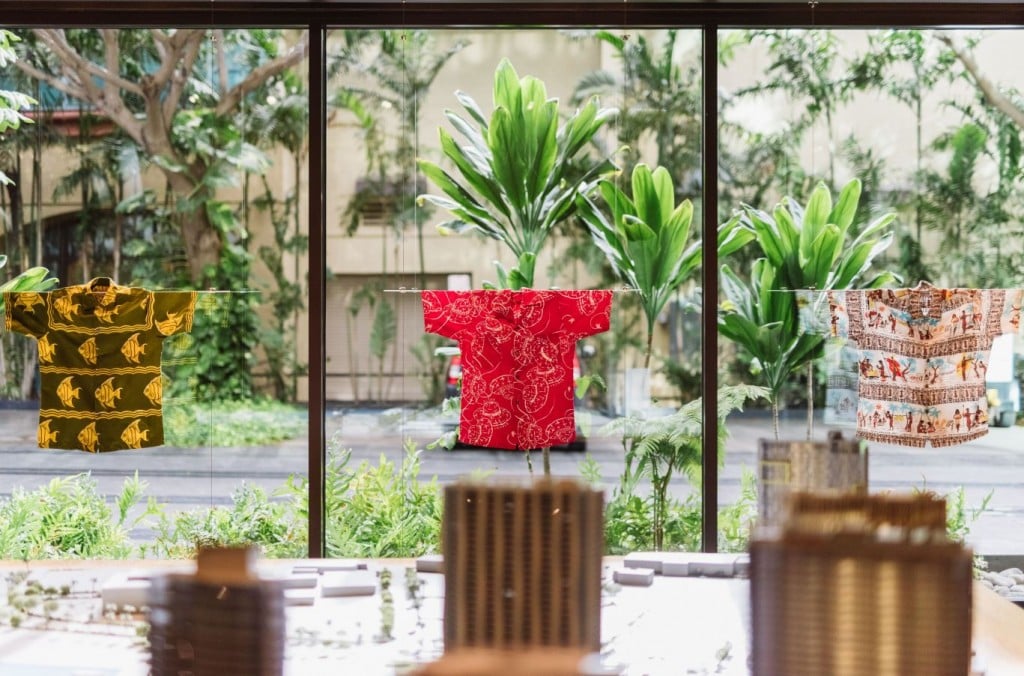 Dale Hope is arguably the most knowledgeable man on the planet when it comes to aloha shirts, the loose-fitting, iconic Hawaii top. So it only makes sense that Hope, who has traveled the world collecting rare aloha shirts and even authored a book on them, The Aloha Shirt: Spirit of the Islands, would curate Vintage Lines, a gallery exhibit open to the public through Sept. 30 that aims to show some of the more interesting pieces in Hope's personal collection.
Set up on the first floor of the IBM Building in Ward Village, Hope has displayed a few dozen aloha shirts in glass frames. While the garment may just be nice to look at, there's a story behind each and every shirt. Hope's showing me one of the earliest examples of an aloha shirt, which really resembles more of flannel. "This one's from the 1920's," says Hope, "and it was called a palaka." Hope tells me that after it became normal attire for farmers and paniolo, the shirt gained widespread popularity, as it became a symbol of being a local Hawaii resident.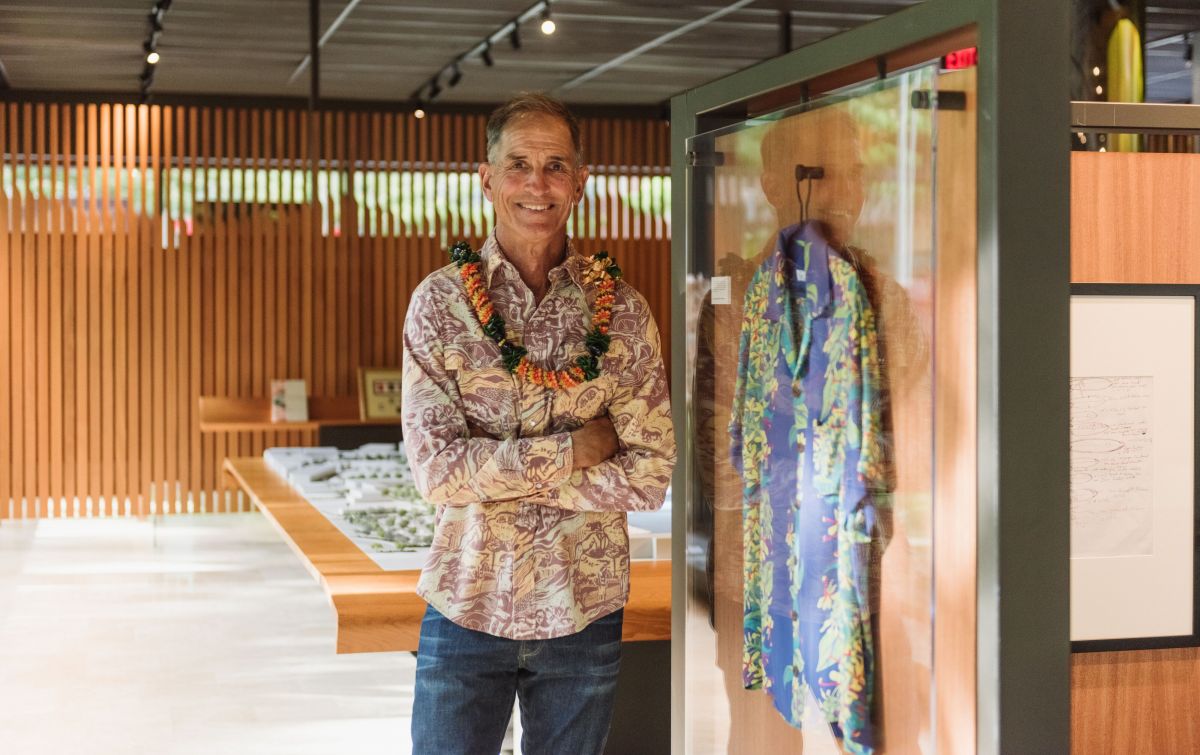 From there, Hope shows me a shirt that features Hawaii-inspired designs you'd likely see on aloha shirts today. "Those early shirts, which were designed by Japanese artists, had Mount Fuji, bamboo boats, cherry blossoms and all that," says Hope, "and then a couple of years later, Hawaii artists said 'Hey, instead of Mount Fuji, we'll put Diamond Head and instead of cherry blossoms, we'll put Hawaiian flowers and hula dancers.'" The shirt I'm looking at now features all of those designs; however, the hula dancers portrayed still have Japanese facial features. The shirt, found by Hope in Japan on the top shelf of a vintage shop, has a tag that reads "Waikiki Shirts," a label Hope himself had never seen before.
Walking through the gallery, the evolution of the aloha shirt also becomes apparent as you move toward the more modern aloha shirts we know today. Cuts change, the number of buttons increases, fabrics move away from the crinkly, pebbly crepe to cotton and rayon. Most importantly, however, are that the actual designs of the aloha shirt begin to transition from what off-island manufacturers thought Hawaii looked like to more sophisticated, Hawaiian designs.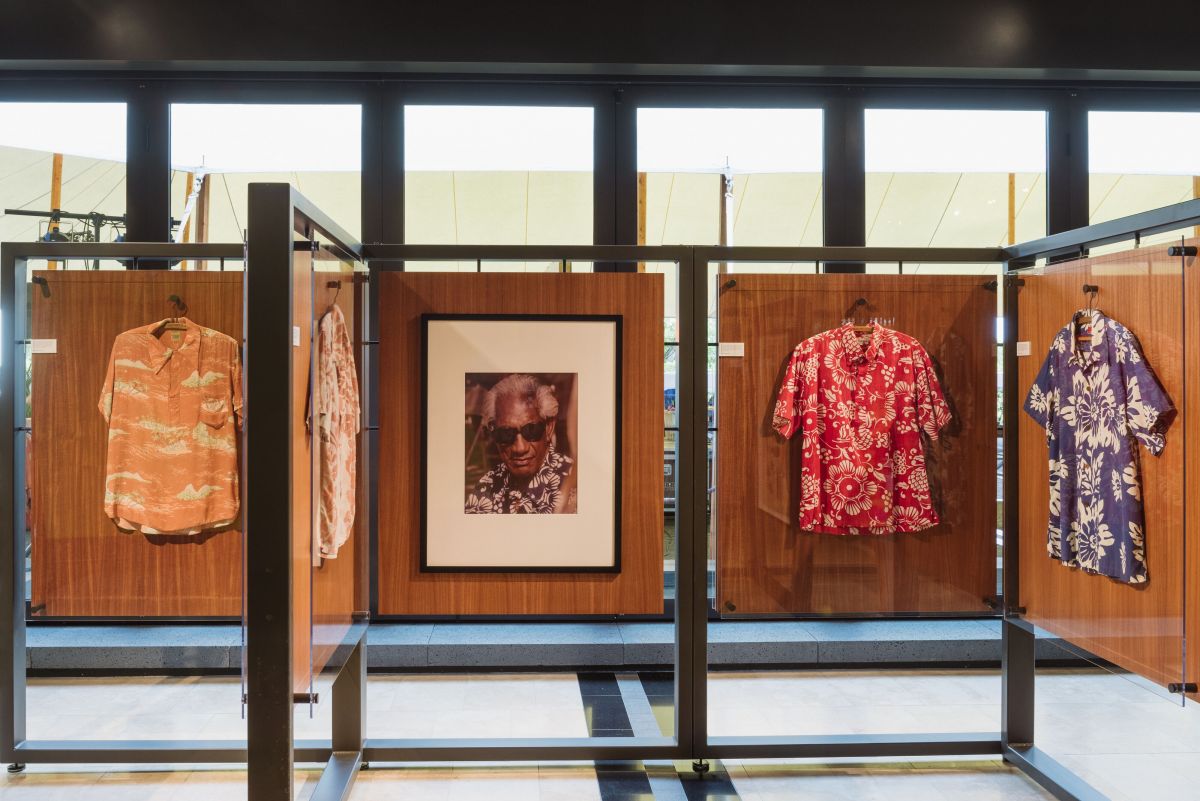 "This shirt today would probably sell for more than $5,000," says Hope, showing me one of his favorite pieces, an aloha shirt featuring a large, Tahitian man carrying bananas, drawn by artist Wolfgang Wolf. Creating the design in a concentration camp in Tahiti with art supplies smuggled in to Wolf by his wife–the couple had fled from Germany to Tahiti as World War II started–Hope explains the story to me in acute detail. And there are stories such as this everywhere you look in the Vintage Lines exhibit; however, the only question I had left to ask Hope was simple: How many aloha shirts does he own? "I probably have a thousand shirts," says Hope. "But I wouldn't want to wear any of them because they're so priceless and irreplaceable."
Vintage Lines is open now through Sept. 30, daily from 10 a.m. to 5 p.m., Ward Village First Floor Gallery, 1240 Ala Moana Boulevard, Honolulu, Oahu. For more information, visit the gallery's website here.