Vintage photos show bygone Hawaii from sailor's view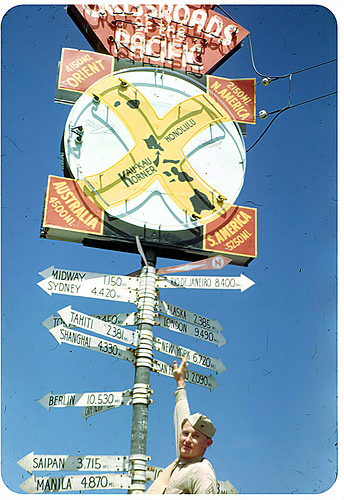 Think these photos are as cool as we do?
There's more.
We had such a great time going through this collection of vintage Hawaii photos that we wanted to share it with HawaiiMagazine.com readers.
Titled A Soldier's Shots of Hawaii from 1940 to 1950, the photo collection was apparently snapped up at estate sales and restored by the person behind this flickr account.
Warning: Once we found this site, work pretty much stopped until we were done exploring it.
The collection contains images of Hawaii's Big Island, Maui, Molokai and Oahu from a very different era. The name of the soldier, or soldiers, who took the shots aren't mentioned, but they sure got around our wonderful state while they were here.
See photos of the long gone railroad on the Big Island's Hamakua Coast. Navy men lounging at the old Volcano House. The old Pali Highway traversing Oahu's Koolau mountain range, before the Pali tunnels existed.
Click here for the beginning page of thumbnail photos—there are six pages with more than 98 photos total. Or click here for a slideshow with larger images.
Be sure to leave a comment for the flickr site's owner to let her know what you think of the collection.
We think it's wonderful, and send her a big mahalo for posting it.