Visiting Pearl Harbor: 75 years later
With December 7, 2016 marking a milestone anniversary, a trip to this integral part of U.S. history is more timely than ever.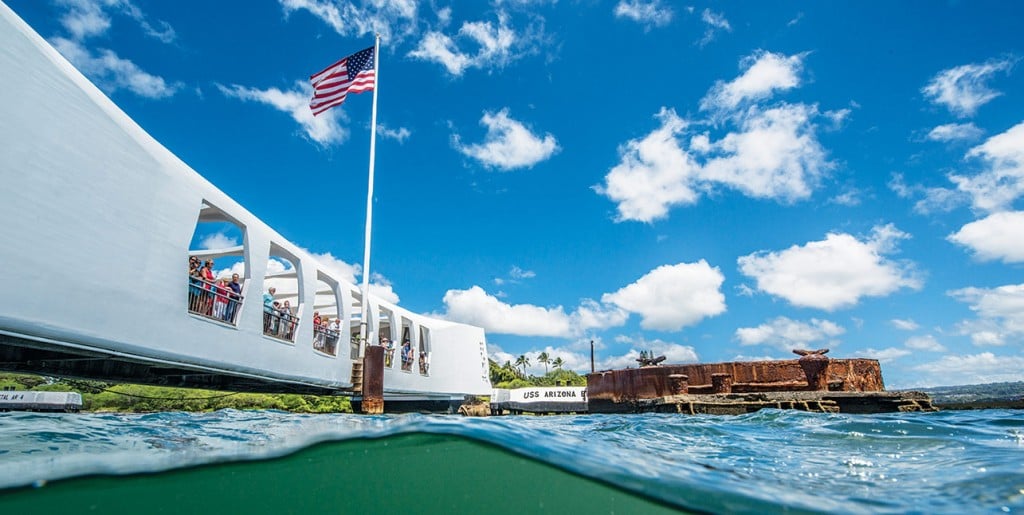 "Everything was black in Pearl Harbor. The only light was the Arizona burning. It was eerie." The USS Arizona burned for two and a half days, and these words, a memory of Raymond D. Emory (Seaman, 1st Class) of the USS Honolulu, linger in my mind as I look out across Pearl Harbor toward Ford Island.
I have just completed a narrated tour of the two museums at the visitor center, and I'm now standing on the USS Arizona Memorial above the sunken battleship, where on December 7, 1941, 1,177 of its servicemen lost their lives.
The surprise attack occurred in two waves over a span of about two hours, beginning at Wheeler Army Air Field and continued at Ewa Marine Corps Air Station, Pearl Harbor Naval Base, Hickam Army Airfield, Kaneohe Naval Air Station and Bellows Army Air Field, resulting in a total of 2,403 casualties, including 68 civilians, and destroying or damaging 19 U.S. Navy ships—the day forever being remembered as "a date which will live in infamy."
I walk into the shrine room where a crowd has gathered, and I stand silently among strangers who have traveled to this spot from all over the world. We stare, together, at the list of 1,177 names etched into a large marble wall—a collective headstone for the crew of the USS Arizona—and we silently pay our respects.
Below and to my left, another large block of marble is set apart from the wall with another list of names. These are the USS Arizona survivors who asked to be interred in the wreck with their fallen comrades—32 names, I count—in a private ceremony that usually happens on December 7. This year will be the first year that two interments take place for two survivors, John Anderson (Boatswain's Mate, 2nd Class) and Clarendon Hetrick (Seaman, 1st Class).
December 7, 2016 marks the 75th anniversary of the attack, and events commemorating the day are expected to draw thousands more people here to honor the service members' dedication and sacrifices. It will also likely be the last major ceremony with Pearl Harbor living survivors present.
Returning outside I stop at one of the Memorial's large windows and watch the oil leak from the depths below. A tiny black ball the size of a marble floats to the surface then spreads out over the water, its shiny sheen glimmering with a spectrum of colors. This repeats every few seconds and my eyes roam over the trail of oil that's left as the current carries each circle of shimmery light away. Tears, some people call it.
The USS Arizona held about 1.5 million gallons of oil when it was bombed, and though a lot of it was burned off during the fire in the two days that followed the attack, much of the oil remains and seeps out of its compartments at about 9 quarts of oil a day. The National Park Service Submerged Resources Center works together with the USS Arizona Memorial to track these quantities and will perform dives to study the ship's hull to ensure that it's managed properly and is not impacting its surrounding environment.
I look up from the water and see the USS Missouri moored nearby at Ford Island, the battleship on which the Japanese formally surrendered in Tokyo Bay on September 2, 1945, bringing World War II to a close. Two days before, I visited the Pacific Aviation Museum, also on the 441-acre Ford Island, and walked through its historic Hangars 37 and 79 (near the red and white Ford Island Control Tower) filled with decades of aviation history, including planes, exhibits and very real reminders of the attack—bullet holes in the hangar doors' blue glass windows. Ford Island is the centerpiece of the attack and images of billowing smoke from battleships surrounding it will forever be seared in my memory.
Soon, another U.S. Navy boat arrives at the Memorial with a new load of visitors, eyes wide and wandering, trying to grasp the historic events that took place here so many years ago, in the same way I just did. I walk with everyone else as we make our way back onto the boat, and I take one final look back. Through the open ceiling of the Memorial, I watch the American flag wave above—its bold colors set against the bright blue sky, sparking pride and patriotism to everyone who visits here.
---
World War II Valor in the Pacific National Monument • Open daily, 7 am. to 5 p.m., Arizona Memorial Pl., Honolulu, Oahu, (808) 422-3399, nps.gov/valr/index.htm.