Volcano House launches "soft opening" at edge of Big Island's Kilauea caldera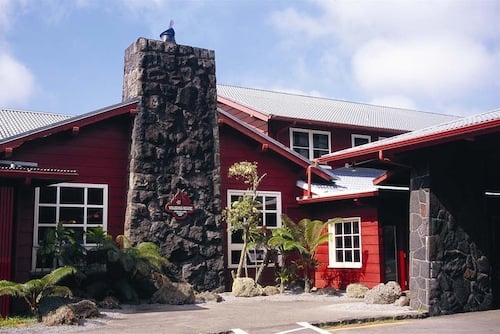 Hawaii Volcanoes National Park's iconic Volcano House, which overlooks Kilauea caldera and erupting Halemaumau crater is now offering special kamaaina rates for Crater View rooms and Namakanipaio camper cabins in celebration of its anticipated full reopening in June.
Shuttered on New Year's Day 2010, Volcano House, which has hosted notable guests, including Mark Twain, Franklin D. Roosevelt and Isabella Bird (a 19th century English explorer and natural historian), began its gradual reopening in mid-August. Since then, it has been open to visitors, 7:45 a.m. to 6:30 p.m. daily, for purchase a limited selection of food, drink and retail items.
The "soft opening" includes a lodging rates special for Hawaii residents offered by MONOGRAM HOTEL COLLECTIONSM (a division of Aqua Hospitality). The Crater View rate is $200 per night and Naamakanipaio cabins, $55. Both will be effective through May 31. For more information about reservations, call (808) 441-7750 or 1-866-536-7972.
In a statement released with the announcement, Elizabeth Churchill, senior vice president of sales and marketing for Aqua Hospitality, said: "Over three years have passed since this world-famous hotel closed so we're delighted to report that the first of the newly renovated rooms are opening."
Since 1824, a structure has been perched on the edge of Kilauea caldera to shelter visitors to the lava-strewn landscape. Volcano House started out as a grass house. Then, after for more than three decades of operation, the first wooden structure was built.
Volcano House, a 33-room hotel, which belongs to the National Park Service, was closed on New Year's Day 2010. Since the hotel's operator left at the end of 2009, the National Park Service has invested more than $4 million in upgrades to the hotel for fire and safety improvements, including seismic upgrades.
In March 2012, Hawaii Volcanoes National Park announced that Hawaii Volcanoes Lodge Company had been selected for a contract to operate overnight accommodations, food and beverage, retail, and related services in the national park. The concessioner was tapped to operate Volcano House, Namakanipaio Campground, and other smaller locations in the park.
Hawaii Volcanoes Lodge Company is owned by Ortega Family Enterprises and Aqua Hotels and Resorts, Inc. Ortega has more than 45 years of hospitality experience and operates concessions within National Park Service sites including Bandelier, White Sands, Muir Woods, Carlsbad Caverns, and Death Valley. The locally based Aqua Hotels and Resorts, Inc. manages several hotels and resorts in Hawaii. Hawaii Volcanoes Lodge Company is now completing the renovation project, which is expected to cost between $2.5 million and $3 million.
For more information about Hawaii Volcanoes National Park, click here.