Volcano House slated for gradual reopening at edge of Big Island's Kilauea caldera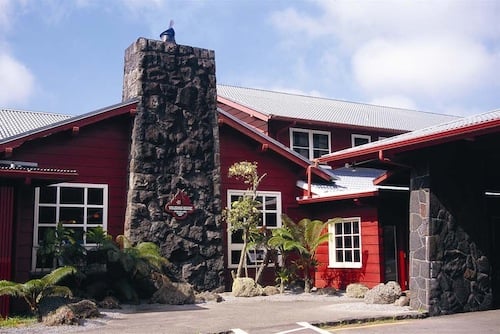 Shuttered since New Year's Day 2010, Hawaii Volcanoes National Park's iconic Volcano House, which overlooks Kilauea caldera and erupting Halemaumau crater will begin its gradual reopening this weekend.
Starting on Sat., Aug. 18, visitors may purchase a limited selection of food, drink and retail items from Volcano House, which will be open daily from 7:45 a.m. to 6:30 p.m. Also, all 10 A-frame cabins at nearby Namakanipaio Campground are slated to reopen by way of a staggered schedule. For information about campground reservations, call (808) 756-9625. Cabins start at $55 per night.
The National Park Service's Director of the Pacific West Region, Christine Lehnertz, today signed the 15-year concession contract between Volcanoes National Park and Hawaii Volcanoes Lodge Company, LLC. The agreement is moving the "soft" reopening forward.
In a news release issued by Volcanoes National Park, Cindy Orlando, the park's superintendent, said: "The company not only fulfilled the qualifications required by the National Park Service, they exceeded expectations." She added, "We are delighted to have Hawaii Volcanoes Lodge Company, LLC as our newest park partner, and look forward to elevating the Volcano House, Namakanipaio Campground, dining experiences and retail opportunities to the next level."
Since 1824, a structure has been perched on the edge of Kilauea caldera to shelter visitors to the lava-strewn landscape. Volcano House started out as a grass house. Then, after for more than three decades of operation, the first wooden structure was built. It came with a stone hearth dedicated to Pele that reportedly burned continuously until World War II regulations took effect.
The hotel, which belongs to the National Park Service, closed on New Year's Day 2010. Since Volcano House's operator left at the end of 2009, the National Park Service has invested more than $4 million in upgrades to the hotel for fire and safety improvements, including seismic upgrades.
In March, Volcanoes National Park announced that Hawaii Volcanoes Lodge Company had been selected for a contract to operate overnight accommodations, food and beverage, retail, and related services in the national park. The concessioner was tapped to operate Volcano House, Namakanipaio Campground, and other smaller locations in the park.
Hawaii Volcanoes Lodge Company is owned by Ortega National Parks, LLC and Aqua Hotels and Resorts, Inc. Ortega National Parks has more than 45 years of hospitality experience and operates concessions within National Park Service sites including Bandelier, White Sands, Muir Woods, Carlsbad Caverns, and Death Valley. The locally based Aqua Hotels and Resorts, Inc. manages 18 hotels and resorts in Hawaii on five islands.
Hawaii Volcanoes Lodge Company is completing renovations to the cabins and to the historic 32-room hotel, with staggered openings slated over the next 12 months. The eight-room annex could begin reopening in January. The entire renovation project is expected to cost the company between $2.5 million and $3 million.
The company plans to hire 50 employees for the hotel, which has hosted notable guests, including Mark Twain, Franklin D. Roosevelt and Isabella Bird, a 19th century English explorer and natural historian. For more information about Volcanoes National Park, click here.