Vote Hawaii! in the Hawaii Five-0 marching band competition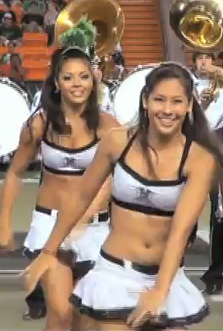 For the first season of the newly reborn Hawaii Five-0, CBS is holding a competition for college and university bands across the country. The best rendition of the Hawaii Five-0 theme wins $25,000 for its band program and an appearance on CBS.
How is the winner determined? By your votes. You can vote once a day through Oct. 4. Click here to vote.
If your home school entered the competition, we wouldn't blame you if you voted for them.
Still, it would be only fitting if the University of Hawaii Rainbow Warriors Marching Band won the competition. The Hawaii Five-0 theme is the university's unofficial fight song. The band plays great, and its multiethnic dance troupe, the Rainbow Dancers, is the prettiest in the country.
You can see video of the University of Hawaii Warriors marching band performance below. But please go to the official CBS site to cast your vote.
As they say: "Vote early, vote often." Click here to vote.