Waikiki Aquarium's Northwestern Hawaiian Islands exhibit to showcase rare fish, coral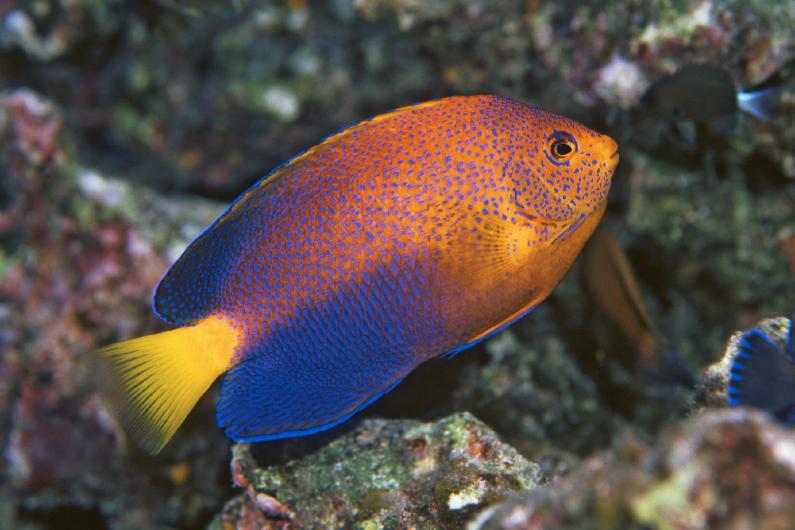 Waikiki Aquarium's new Northwestern Hawaiian Islands exhibit, which features rare marine life from one of the world's most isolated set of islands, will open on Thurs., Aug. 18, with festivities slated for 9 a.m. to 2 p.m.
The exhibit will showcase fish and coral in a living reef ecosystem representative of that found in the Papahanaumokuakea Marine National Monument —the largest single area dedicated to conservation in the United States. The 140,000 square-mile monument — stretching from Nihoa Island, northwest of Kauai, to Kure Atol — is home to over 7,000 marine species, one-fourth of which are found nowhere else on Earth.
Among the unique organisms in the 4,000-gallon public display will be table corals, masked angelfish(pictured, below), yellow barbel goatfish and Japanese pygmy angelfish (pictured, above). These species are abundant around the Northwestern Hawaiian Islands, but are extremely rare or absent around the Main Hawaiian Islands.
Interactive touch screens associated with the exhibit will provide additional information on the significance of the islands, their ecology and biodiversity, and the importance of preserving this almost pristine marine ecosystem for future generations.
First established as the Northwestern Hawaiian Islands Marine National Monument in 2006, by Pres. George W. Bush, its name was changed to Papahanaumokuakea the following year. Last year, Papahanaumokuakea, which includes 10 islands and atolls in the Northwestern Hawaiian Islands, was designated as a United Nations World Heritage site.
Festivities tied to the new $300,000 exhibit — the aquarium's first major exhibit in six years — include marine life education and crafts activities for children; educational booths and activities about marine debris, marine biology and the Papahanaumokuakea Marine National Monument; and drawings by cartoonist Allen Tsukamoto. Also, Crazy Shirts T-shirts, featuring Northwestern Hawaiian Islands designs, will be available for purchase.

Founded in 1904, the Waikiki Aquarium — the third-oldest aquarium in the United States — showcases more than 500 marine species and maintains more than 3,500 marine animals, fish and other specimens. For information about the aquarium, including admission and operational hours, call (808) 923-9741 or click here.